The USA's Most Favorite Custom Neon Signs Brand
Join with our happy customers!
Love for NeonChamp
See the creativity with custom text neon signs!
Get Groovy!
DESIGN CUSTOM NEON LIGHTS
WITH

WORLD-CLASS

CRAFTSMANSHIP

Need help in adding something extra to your business or event that would enhance the experience more? Or do you want to make your home shine bright through the night or gift someone something special? Choose to get our Custom LED Neon Signs; we have experience creating types of personalized lighting fixtures for different occasions and sizes.

Let us know what you want, and we prepare a stunning result that shall light up your world perfectly.

Most Affordable & Quality LED Neon Signs Supplier: NeonChamp brings you the best-in-class Neon LED Lights in your choice for home, business, weddings, events, & more.! Get started with online designer and choose from the best pre-made neon signs like "peace neon sign", "the world is yours" neon sign, Vibes only neon signs, and more neon signs for sale. Or create your own neon sign with your preferred icon, logo, emoji, or quotes.

Gift of Light: Looking to express your feelings to someone you love? Explore our Holiday & Special Occasions Neon Signs Collection.

Buy Flow-Mo Neon Sign Pieces: Lit up your space with trending multicolor changing neon sign with 100+ flow-mo design. All the neon signs are safe to use and do not heat up.

Light Up Your Special Events: Our exciting collections of neon signs can light up any plain and boring walls, doorways, and corners.
Top Selling Neon Signs
Check out the most popular items at NeonChamp and bring them to your home too!
Why Choose Custom Neon Signs As a

Your Eye-catching Decor?
Custom Designed

Energy & Cost Efficient

3 Years Guarantee

Free Shipping
About Our Custom Neon Signs
Get Top-grade Custom Neon Signs Services
Planning to spruce up the home décor or add something extra to your new business/store entryway? You would get splendid reactions from all your visitors when you buy Custom Neon from us.
Our team at NeonChamp has been in this business for several years, catering to different types of clients with successful results. So trust our services if you want to create a stunning and personalized led neon flex that mirrors the vibe you wish to give off your business.
Custom LED Neon Sign for Any Area
Whether you want to order Personalized Neon Signs for your lobby area and entrance or as a statement piece in your bedroom, we cover all options. Our team of designers has years of experience in this field and has the training and natural creativity to help out with the process.
We prioritize our client's satisfaction above everything; the sign we provide would tell a story to everyone who sees it. For business owners to connect with their customers and give them a sense of the vibe they can expect from people showcasing their inner personality through their individualized room décor, the sign would provide an additional flair to it.
Discuss the design with us - do you want the business logo, bar logo or the company's tagline as the primary display? We would focus on creating the best custom neon name signs for you.
LED Neon Signs for your Business
Want to improve the interiors of your business, or bars and give it a modernistic touch? Get in touch with our designers and acquire top-level custom neon signs for your company. Our team is ready to create visually stunning and exciting designs for different types of businesses whenever necessary.
So, reach out to us with your neon sign design needs and tell us your idea if you have one. Our neon sign maker would create an accurate and durable representation of your brand's company logo, product imagery, or tagline.
LED Neon Signs for your Event
Are you organizing a wedding or a corporate event? Planning for your child's birthday party or anniversary, but not knowing how to highlight your event decor more? You can always opt for neon signs at the entrance or walls. Highlight quotes or the name of the person-of-honor in technicolor LED lighting.
It would add its touch of style to the festivities and excite the guests further. For example, the couple's names in neon lights or a fun quote celebrating the party's theme. So, whether you are planning a bridal shower, product launch, or sweet 16, do so with a Custom Neon Sign to light the way.
Bring the Shine On With Custom Neon Sign for Bars & Restaurants
NeonChamp can help you design custom neon bar signs to make your club look Incredible for the nights! You can even make your home bar glitter for a cocktail party night with our LED neon flex.
We only work with the best of the materials to design high quality neon signs for bars and restaurants. Our LED neon signs for bars can turn out to be the perfect element to excite your bar decor!
Enhance your Experience with The Best Quality Custom Neon Sign
First of all, we provide an extended range of our ready-made neon signs that customers can look through at our Neon Sign Shop. Do so after you visit us or through our online website to get an idea of our quality of work.
Do you want something flashy or personalized neon signs compatible with a particular theme? Either way, we can help with the designing and building steps, focusing on your pointers dedicatedly. Use our creator tool to get a preview first before settling the payment.
FAQs on Custom LED Neon Signs
How to make LED neon signs?
You can easily make Custom Neon Lights with the help of professional designers or with home-centric raw materials manually.
The best designers at NeonChamp offer an online custom designing tool for regular users to create and preview their designs.
Add unique elements like names or logos, and select among color and size variations.
Afterward, you can order the sign and get it delivered within a few weeks.
What is the difference between neon vs. LED?
Both the conventional glass-based neon signs and LED light signs are helpful but have different benefits. The LED lights are more popular currently due to their durable structure, portable model, and lightweight body. On the other hand, the neon signs have a long-lasting and powerful beam but are more fragile and heavier. Plus, the cost of development and installation is also high.
How much do custom neon signs cost?
Generally, the cost of creating personalized neon signs ranges between $150 - $200 to $1,500 - $2,000. The high price depends on many factors, like the customizations that clients add to the signage. These include things like the size specifications, unique colors, logo design requirements, and text. Also, the cost can vary for different companies that offer this service, as well.
How to create your own neon sign?
To create your neon name signs, you should get the right items like a rigid board, scroll saw, plastic tubing, RGB LED strip, hot glue, drill, and more. Place the board as the main base, and add the printed letters on it. Next, get the diameter drill to create holes in the neon tube as per the letter placement and use the scroll saw to join their ends (with the new holes) together.
How to create your own neon sign?
To hang Custom Made Neon Signs follow the below mentioned steps:
> Hold the sign against the wall and mark it with a pencil.
> Spot the points where you would drill the holes for the mounting anchors.
> Drill into it properly; use a drywall anchor if your wall is of that nature. Take a screwdriver to put them inside the holes.
> Place your LED Neon Lights against your wall and secure them against.
How long do neon signs last?
Typically, neon lights have a long-lasting lifespan. Naturally, if you do not keep the neon sign switched on at all times, it can last as long as 15-20 years. Even if you switch on the lights and keep it running 24x7, the neon signs would still stay intact for over ten years.
×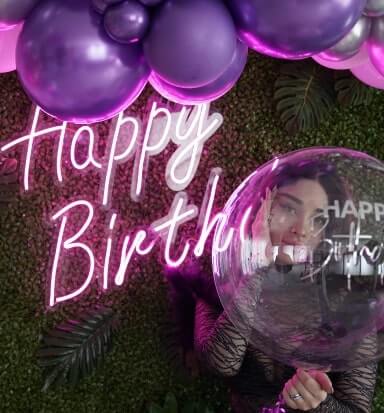 LIGHT UP YOUR LIFE AND GET 12% OFF A CUSTOM NEON!
Enter your email address to switch on this deal.