Product Description
Product Details
Shipping & Delivery
What You Get
Product Installation Guide
The "Blocky BBQ Neon Sign'' is a striking and bold art piece that showcases the words "Blocky BBQ" playfully and enticingly using eye-catching neon lights. The design features a unique and modern block-letter style, reminiscent of pixel art, evoking a sense of fun and nostalgia.
The neon colors are carefully chosen to create a warm and inviting ambiance, making it a perfect addition to any space seeking to celebrate the joy of barbecue and delicious grilled treats. This neon sign will add a touch of excitement to any BBQ joint or enthusiast's space, leaving visitors craving mouthwatering flavors.
Best Places to Install Blocky BBQ Neon Sign
Outdoor BBQ Haven
Transform your backyard into a barbecue paradise by hanging the "Blocky BBQ Neon Sign," setting the mood for delicious outdoor grilling and gatherings.
Restaurant Grill Station
Enhance the authenticity of your restaurant's grill station with the captivating glow of the "Blocky BBQ Neon Sign," drawing hungry patrons to savor smoky flavors.
Café Patio Retreat
Create a cozy corner in your café's outdoor area with the "Blocky BBQ Neon Sign," inviting guests to indulge in savory delights while enjoying fresh air.
Food Truck Flavor
Attract food enthusiasts to your mobile culinary venture with the bold "Blocky BBQ Neon Sign," announcing your mouthwatering barbecue offerings with flair.
Kitchen Culinary Inspiration
Infuse your home kitchen with culinary passion by adorning the wall with the "Blocky BBQ Neon Sign," inspiring flavorful experiments and gourmet creations.
A striking neon sign for barbecue enthusiasts.
Block lettering with a grill and flames design.
Ideal for BBQ restaurants, backyard parties, or cookouts.
Adds a touch of warmth and excitement to the setting.
When you buy any Neon Sign from NeonChamp, you can expect your order to arrive promptly anywhere in the USA. Whether you choose the rush or standard shipping option, we do our best to get your Neon Signs to you as soon as possible!
To safeguard your delivery, we offer a non-confusing, clear refund policy. You can reach out to us for a full refund if the neon lights are faulty or damaged during transit.
Shipping Details
Unboxing Your Neon Sign Kit
We know you are excited to receive your Neon Sign, which we pack with loads of love. But what's inside should not be a mystery to you, that is why we uncover all the details.
All the Neon signs that we send are well-equipped with clear acrylic boards having pre-drilled holes and SS mounting screws which makes hanging easy. Also, the neon signs are clubbed with a power cord which you can attach to the power adapter. Also, you get an option to adjust the brightness of your custom-made neon sign via a remote controller.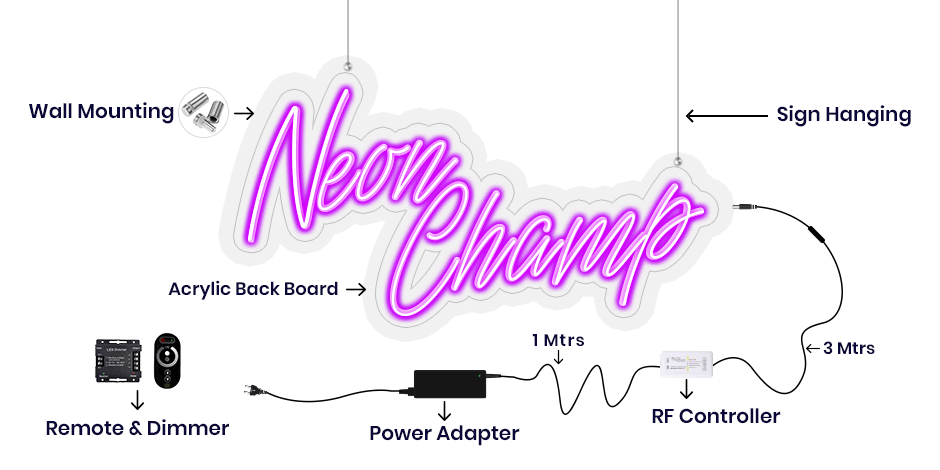 Glow Your Neon Sign in Style with NeonChamp
First begin by plugging in the power adapter
Insert the power adapter safely to ensure that the neon light get started as you want
Next, connect the power adapter output to RF Controller
Now that the power adapter is safely inserted it's time to connect the power adapter to RF controller
Now connect RF Controller output to the Neon Connector
Next, connect the RF controller to the neon connector which is a very simple process and won't take much time
Adjust Brightness with remote controller and done.
Set the brightness using a remote controller according to your décor or mood and get it started.
Why NeonChamp
Energy & Cost Efficient

Free Delivery

3 Years Warranty

Save & Secure Checkout
Get the 'Blocky BBQ Neon Sign' and savor the flavor of a true grill master's delight
Order now and let the 'Blocky BBQ Neon Sign' turn up the heat on your grilling adventures."