Neon Sign Trends: What's Hot in Wedding Decor for 2023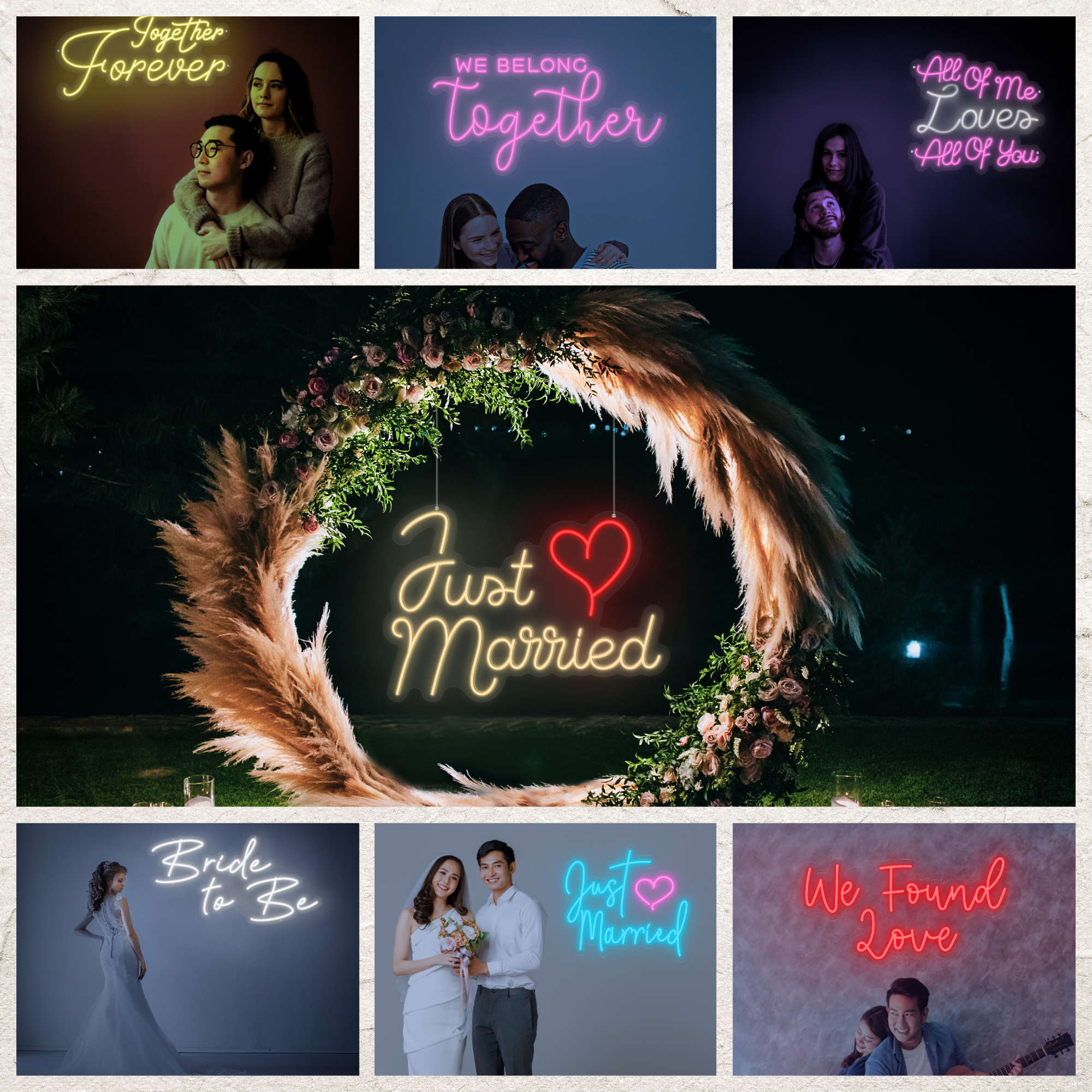 How Can You Use Wedding Neon Signs For Decor?  
Personalized wedding decor neon signs can be used in various ways to enhance wedding decor.
Here are five key areas where personalized wedding decor neon signs can be incorporated: 
Neon Backdrops and Photo Booths
Neon signs make eye-catching backdrops for wedding ceremonies and receptions. They can be used as a focal point for the stage or altar area or as a backdrop for the photo booth. The vibrant glow of wedding neon signs adds a touch of elegance and creates a captivating ambiance for memorable photos. 
Neon Table Numbers and Place Cards
Consider using custom neon signs instead of traditional paper or cardstock table numbers and place cards. Customized neon table numbers or place cards can be placed on each table, adding a modern and stylish element to the overall table decor. Guests will appreciate the unique and contemporary touch. 
Neon Signage for Wedding Signage and Directions
Neon signs can be used as directional signage to guide guests throughout the wedding venue. They can point guests to various locations, such as the ceremony area, reception hall, restrooms, and parking areas. Additionally, neon signs can display wedding-related information and event details, such as welcome signs or timelines. 
Neon Quotes and Love Messages
Displaying romantic quotes, love messages, or meaningful phrases with neon signs adds a personal touch to the wedding decor. These neon signs can be placed at the entrance, above the sweetheart table, or as a focal point on a designated display wall. They create a romantic and whimsical atmosphere, allowing couples to showcase their love story and unique personalities. 
Neon Dance Floor and Venue Lighting
Transform the wedding reception area by incorporating neon signs into the dance floor or as venue lighting. Custom neon signs can create a vibrant and energetic atmosphere on the dance floor, providing a captivating backdrop for the couple's first dance and encouraging guests to let loose and have fun.  
Also, neon signs can be strategically placed around the venue to enhance the lighting and ambiance. 
By incorporating neon signs into these key areas of wedding decor, couples can add a modern and unique element to their special day, creating a memorable experience for themselves and their guests. 
Outdoor Neon Sign Ideas for Wedding 
Outdoor neon signs are the perfect way to add a touch of magic to your weddings. Here are some outdoor neon sign ideas for you. 
Commit Forever with the "I Do" Neon Sign
Make a bold statement with an "I Do" neon sign. This glowing declaration of love will be a charming backdrop for your ceremony or reception. It symbolizes your commitment to each other and creates an enchanting atmosphere. 
Party Hard with the "Till Death Do Us Party" Neon Sign
Consider a "Till Death Do Us Party" neon sign if you're planning a fun-filled and lively wedding celebration. This playful and catchy phrase will encourage your guests to let loose, dance, and enjoy the festivities. 
Have a Blast at Post Wedding Party with a "Just Married" Neon Sign
After exchanging your vows, continue the celebration with a "Just Married" neon sign. Hang it at your post-wedding party venue to share the joy of your union with your loved ones. This sign will create an eye-catching focal point and add whimsy to your festivities. 
King & Queen LED Neon Sign
A "King & Queen" LED neon sign is the perfect choice if you and your partner feel like royalty on your special day. This regal sign will symbolize the power of your love and the beginning of your shared reign. 
Indoor Neon Signs Ideas for Wedding 
Happily Ever After Neon Sign
Create a fairytale-like atmosphere with a "Happily Ever After" neon sign. This sign will serve as a romantic backdrop for your indoor wedding venue, adding a touch of enchantment to your special day. 
Together Forever Neon Sign
Celebrate your everlasting bond with a "Together Forever" neon sign. This elegant display will remind everyone of the strength of your love and commitment. 
It Was Always You Neon Sign
Express your undeniable connection with your partner through an "It Was Always You" neon sign. This sign will showcase your deep love and the journey that led you to this beautiful moment. 
My Heart Will Be Forever Yours
Declare your eternal devotion with a My Heart Will Be Forever Yours neon sign. This heartfelt phrase will create an emotional atmosphere, making your wedding even more special. 
Custom Neon Signs For Additional Wedding Festivities 
Weddings are not the only special day, proposals, bridal showers, bachelorette parties are also a part of your big days and need special attention. Here are some ideas to make these days special with custom neon signs.  
Propose Big with a "Will You Marry Me" LED Neon Sign
If you plan a surprise proposal at your wedding, make it unforgettable with a Will You Marry Me LED neon sign. This dazzling display will set the stage for a memorable and romantic moment. 
Jazz Up Your Bridal Showers with a "Bride To Be" Neon Sign
For your bridal showers, adorn the venue with a Bride To Be neon sign. This sign will add a touch of glamor and make you feel like the star of the show, creating a festive and celebratory atmosphere. 
Hitched Forever with Diamond Engagement Ring Neon Sign
Celebrate your engagement and impending nuptials with a "Hitched Forever" neon sign featuring a diamond engagement ring. This sign will serve as a symbol of your love and anticipation for the upcoming wedding. 
Conclusion 
Custom Neon signs are a fantastic way to add a touch of magic and create a memorable atmosphere at your outdoor wedding. The possibilities are endless, whether you're looking for romantic phrases, playful statements, or personalized signs. Embrace these neon signs' radiant glow and brighten your wedding day.