Product Description
Product Details
Shipping & Delivery
What You Get
Product Installation Guide
Introducing the captivating "Beachy Neon Sign." Crafted to capture the essence of the seaside, this neon masterpiece brings the relaxing and carefree vibes of the beach to your space. Whether it's a bedroom, living room, or office, this beach-themed neon light adds a splash of coastal beauty to your surroundings.
Best Places to Install Beachy Neon Sign
Living Room or Family Room
A beachy neon sign can become a focal point in your main living space, setting a relaxed and tropical vibe for the entire room.
Home Bar or Game Room
If you have a home bar or a game room, a beachy neon sign can enhance the fun and leisurely atmosphere of the space.
Bedroom
Adding a beachy neon sign in your bedroom can create a calming and vacation-like ambiance, helping you feel like you're at the beach even when you're indoors.
Outdoor Patio or Deck
If you have an outdoor area, consider installing a weatherproof beachy neon sign to illuminate and decorate your patio or deck during evenings and gatherings.
Pool Area
If you have a pool, a beachy neon sign nearby can enhance the tropical atmosphere and make your poolside experience even more enjoyable.
Bathroom
Create a spa-like environment in your bathroom by incorporating a beachy neon sign, enhancing relaxation during your self-care routines.
Beach House or Vacation Rental
If you own a beach house or a vacation rental property, a beachy neon sign can emphasize the coastal theme and enhance the overall experience for guests.
Surf Shack or Outdoor Barbecue Area
If you have a surf shack or an outdoor barbecue area, a beachy neon sign can add character and style to the space.
Immerse yourself in the soothing allure of the "Beachy Neon Sign."
Crafted with meticulous attention to detail using advanced neon technology.
Features a charming beach-themed design that encapsulates coastal relaxation.
Ideal for living rooms, bedrooms, offices, and outdoor spaces.
When you buy any Neon Sign from NeonChamp, you can expect your order to arrive promptly anywhere in the USA. Whether you choose the rush or standard shipping option, we do our best to get your Neon Signs to you as soon as possible!
To safeguard your delivery, we offer a non-confusing, clear refund policy. You can reach out to us for a full refund if the neon lights are faulty or damaged during transit.
Shipping Details
Unboxing Your Neon Sign Kit
We know you are excited to receive your Neon Sign, which we pack with loads of love. But what's inside should not be a mystery to you, that is why we uncover all the details.
All the Neon signs that we send are well-equipped with clear acrylic boards having pre-drilled holes and SS mounting screws which makes hanging easy. Also, the neon signs are clubbed with a power cord which you can attach to the power adapter. Also, you get an option to adjust the brightness of your custom-made neon sign via a remote controller.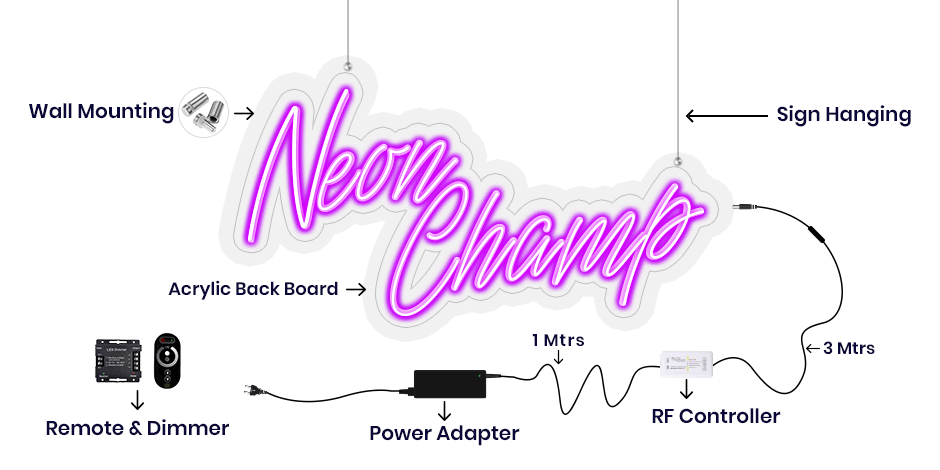 Glow Your Neon Sign in Style with NeonChamp
First begin by plugging in the power adapter
Insert the power adapter safely to ensure that the neon light get started as you want
Next, connect the power adapter output to RF Controller
Now that the power adapter is safely inserted it's time to connect the power adapter to RF controller
Now connect RF Controller output to the Neon Connector
Next, connect the RF controller to the neon connector which is a very simple process and won't take much time
Adjust Brightness with remote controller and done.
Set the brightness using a remote controller according to your décor or mood and get it started.
Why NeonChamp
Energy & Cost Efficient

Free Delivery

3 Years Warranty

Save & Secure Checkout
Embrace the coastal vibe! Order your "Beachy Neon Sign" now and bring the beach to you.
Infuse your space with the serenity of the shore. Get your "Beachy Neon Sign" today and experience the beauty of the beach every day!