Product Description
Product Details
Shipping & Delivery
What You Get
Product Installation Guide
The Beer Barrel LED Neon Sign is a unique and lively decor piece for any beer lover. With its detailed design and warm glow, it serves as an excellent focal point in any room. This sign is made from high-quality LED neon flex, ensuring longevity and energy efficiency. It perfectly captures the spirit of good times and camaraderie that's often associated with enjoying a barrel of beer. Whether you're setting up a pub or decking out a home bar, this sign adds the perfect touch of character and charm.
Best Places to Install Beer Barrel- LED Neon Sign
Home Bar or Entertainment Room:
Enhances the vibe of your personal hangout.
Pub or Brewery:
Signals your specialty to customers.
Beer Tasting Event:
Creates a focal point and talking piece.
Restaurant or Bistro:
Enhances the decor and sets the theme.
Man Cave or Basement:
Adds to the relaxed and fun atmosphere.
Crafted from high-quality LED neon flex, it's a durable and energy-efficient solution for your lighting needs.
Size:
Choose the perfect size (small to extra-large) for your Beer Barrel LED Neon Sign to match your space.
Materials:
Constructed with durable and high-quality materials for a long-lasting and efficient LED sign.
Installation:
Designed for easy installation with either pre-drilled holes or adhesive backing.
Color:
The warm and inviting colors of this sign add a welcoming touch to your beer-themed decor.
Customization:
Personalize your sign or choose from our pre-made designs in your preferred color and size.
Purchase your Beer Barrel LED Neon Sign from NeonChamp and rest assured that your order will arrive speedily anywhere in the USA. Whether you've chosen rush or standard shipping, we're committed to getting your neon signs to you promptly! To ensure the safety of your order, we provide a clear refund policy. If the neon lights arrive damaged or faulty, just contact us for a full refund.
Shipping Details
Unboxing Your Neon Sign Kit
We know you are excited to receive your custom Beer Barrel- LED Neon Sign, which we pack with loads of love. But what's inside should not be a mystery to you, that is why we uncover all the details.
All the Neon signs that we send are well-equipped with clear acrylic boards having pre-drilled holes and SS mounting screws which makes hanging easy. Also, the neon signs are clubbed with a power cord which you can attach to power adapter. Also, you get an option to adjust the brightness of your custom-made neon sign via a remote controller.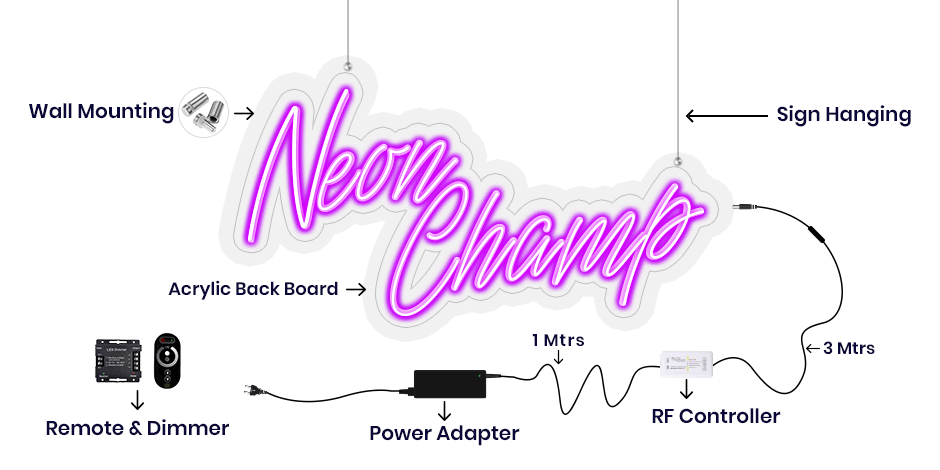 Glow Your Neon Sign in Style with NeonChamp
First begin by plugging in the power adapter
Insert the power adapter safely to ensure that the neon light get started as you want
Next, connect the power adapter output to RF Controller
Now that the power adapter is safely inserted it's time to connect the power adapter to RF controller
Now connect RF Controller output to the Neon Connector
Next, connect the RF controller to the neon connector which is a very simple process and won't take much time
Adjust Brightness with remote controller and done.
Set the brightness using a remote controller according to your décor or mood and get it started.
Why NeonChamp
Energy & Cost Efficient

Free Delivery

3 Years Warranty

Save & Secure Checkout
Raise the Bar with Our Beer Barrel LED Neon Sign!
Roll in the Fun with Our Unique Collection of Neon Drink Sign!