Product Description
Product Details
Shipping & Delivery
What You Get
Product Installation Guide
Illuminate your space with the enchanting glow of our "Better Together" LED neon sign. Crafted with care and precision, this customized masterpiece serves as a radiant reminder of the profound connection you share with your significant other. The vibrant neon lights create a captivating ambiance, while the words themselves evoke a sense of unity and love. Whether displayed in your living room, bedroom, or as a centerpiece at special occasions, this personalized neon sign beautifully conveys the message that your life is truly complete when you're together.
Best Places to Install Better Together LED Neon Sign:
Bedroom:
Create a cozy and romantic atmosphere by installing the "Better Together" LED neon sign above your bed. Its soft glow will fill the space with warmth, serving as a constant reminder of the love and unity you share with your significant other.
Living Room:
Make a bold statement in your living room by placing the "Better Together" neon LED sign on a prominent wall. This focal point will not only add a touch of elegance to your decor but also symbolize the bond you have with your partner, making it a great conversation starter when hosting guests.
Home Office:
Bring inspiration and positivity to your workspace by incorporating the "Better Together" LED neon sign. Its radiant illumination will uplift your mood and motivate you to work diligently, reminding you of the support and happiness your significant other brings to your life.
Check out the feel and vibes of your Better Together LED Neon Sign which will look amazing on your Bedroom walls.
Versatile Sizing Options:
Our Better Together LED Neon Sign is available in three different sizes - small, medium, and large, allowing you to choose the perfect size that suits your space and preference, just like picking the right-sized pizza for your cravings.
Customizable Color Selection:
Personalize your Better Together LED Neon Sign with your favorite colors! With our online design tool, you have the freedom to select from a wide range of vibrant colors, ensuring that your sign perfectly matches your taste and adds a pop of visual delight to any setting.
Unique Styles to Suit Your Taste:
Looking for something distinctive? Our Better Together LED Neon Sign comes in a variety of captivating styles, adding a touch of creativity and individuality to your space. From classic and retro designs to modern and quirky styles, you'll find the perfect Pizza Neon Sign that resonates with your unique personality.
NeonChamp offers different shipping packages. Each sign is handcrafted on-demand and thus requires a minimum of 3 weeks to reach your doorsteps. If you are in a hurry and need your order faster, please choose rush delivery options while ordering. You will get your package through the rush option within two weeks of ordering. Packages with damages are eligible for a return, considering they meet return policy conditions.
Shipping Details
Unboxing Your Neon Sign Kit
We know you are excited to receive your custom Better Together LED Neon Sign, which we pack with loads of love. But what's inside should not be a mystery to you, that is why we uncover all the details.
All the Neon signs that we send are well-equipped with clear acrylic boards having pre-drilled holes and SS mounting screws which makes hanging easy. Also, the neon signs are clubbed with a power cord which you can attach to power adapter. Also, you get an option to adjust the brightness of your custom-made neon sign via a remote controller.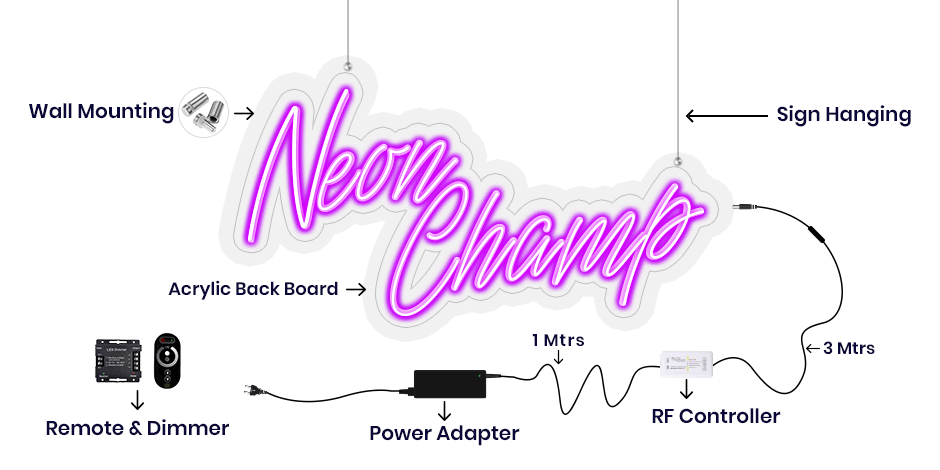 Glow Your Neon Sign in Style with NeonChamp
First begin by plugging in the power adapter
Insert the power adapter safely to ensure that the neon light get started as you want
Next, connect the power adapter output to RF Controller
Now that the power adapter is safely inserted it's time to connect the power adapter to RF controller
Now connect RF Controller output to the Neon Connector
Next, connect the RF controller to the neon connector which is a very simple process and won't take much time
Adjust Brightness with remote controller and done.
Set the brightness using a remote controller according to your décor or mood and get it started.
Why NeonChamp
Energy & Cost Efficient

Free Delivery

3 Years Warranty

Save & Secure Checkout
Get Your Customized "Better Together" Sign with NeonChamp
Rediscover love daily with our "Better Together" neon signs.