Product Description
Product Details
Shipping & Delivery
What You Get
Product Installation Guide
Elevate your space with the enticing glow of our Cold Beer LED Neon Sign. Crafted with meticulous attention to detail, this sign is designed to add a touch of style and sophistication to any bar, man cave, or entertainment area. The vibrant LED lights create a captivating visual display that instantly sets the mood for a relaxed and enjoyable experience. Whether you're hosting a gathering or simply unwinding after a long day, our Cold Beer LED Neon Sign serves as a beacon, inviting you to savor the refreshing moments in life with your favorite beverage.
Best Places to Install Cold Beer LED Neon Sign:
Home Bar:
Transform your home bar area into a captivating space by installing the Cold Beer LED Neon Sign as the focal point. Hang it behind the bar counter or on a prominent wall to create a vibrant and inviting atmosphere for your guests.
Man Cave:
Make your man cave the ultimate hangout spot by incorporating the Cold Beer LED Neon Sign. Whether it's mounted above the pool table, displayed on a shelf, or positioned near the seating area, it adds a touch of coldness and sets the perfect ambiance for relaxing with friends.
Outdoor Patio:
Take your entertaining to the next level by installing the Cold Beer LED Neon Sign in your outdoor patio or backyard area. Hang it on a pergola, fence, or wall to create a lively and welcoming atmosphere for gatherings and barbecues. The illuminated sign will add a fun and refreshing touch to your outdoor socializing space.
Check out the feel and vibes of your Cold Beer LED Neon Sign which will look amazing on your Bar walls.
Varied Sizes:
The cold beer led neon sign comes in three different sizes: small, medium, and large. Choose the one that best fits your needs.
Vibrant colors:
Our neon flex LED signs come in varied colors so you can choose your favorite color.
Varied Styles:
When shopping for a Cold Beer led Neon Sign you are not limited to one option. At neonchamp choose your style and decorate bar space with unique LED bar neon signs.
We are proud to say that you can get LED neon bar signs in just three-five weeks. Our team customizes neon flex LED signs with extreme care and love. So don't worry but custom neon sign of cold beer and wait for it to arrive – till then enjoy a chilled beer!
Shipping Details
Unboxing Your Neon Sign Kit
We know you are excited to receive your custom Cold Beer LED Neon Sign, which we pack with loads of love. But what's inside should not be a mystery to you, that is why we uncover all the details.
All the Neon signs that we send are well-equipped with clear acrylic boards having pre-drilled holes and SS mounting screws which makes hanging easy. Also, the neon signs are clubbed with a power cord which you can attach to power adapter. Also, you get an option to adjust the brightness of your custom-made neon sign via a remote controller.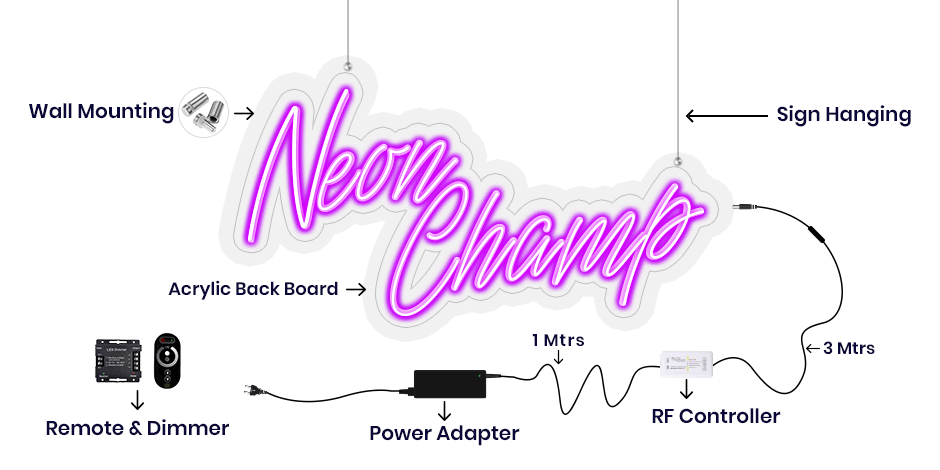 Glow Your Neon Sign in Style with NeonChamp
First begin by plugging in the power adapter
Insert the power adapter safely to ensure that the neon light get started as you want
Next, connect the power adapter output to RF Controller
Now that the power adapter is safely inserted it's time to connect the power adapter to RF controller
Now connect RF Controller output to the Neon Connector
Next, connect the RF controller to the neon connector which is a very simple process and won't take much time
Adjust Brightness with remote controller and done.
Set the brightness using a remote controller according to your décor or mood and get it started.
Why NeonChamp
Energy & Cost Efficient

Free Delivery

3 Years Warranty

Save & Secure Checkout
Get Your Customized "Cold Beer LED Neon Sign" with NeonChamp
Sit back, relax, and bask in the vibrant glow of our mesmerizing LED Cold Beer Neon Sign.