Product Description
Product Details
Shipping & Delivery
What You Get
Product Installation Guide
Transform your game room into a lively hub of fun with our captivating Game Room Neon Sign. Crafted with vibrant neon lights, this sign adds a burst of colour and a sense of adventure to your entertainment space. Whether you're into video games, board games, or card games, this neon sign sets the perfect ambience for hours of enjoyment. Its sleek design and eye-catching glow make it an ideal centrepiece, capturing the attention of everyone who enters. Elevate your game room décor and make a statement with this must-have accessory.
Best Places to Install Game Room Neon Sign
Above the Entrance
Placing the neon sign above the entrance to the game room sets the tone as soon as someone walks in. It welcomes guests to the entertainment area and immediately lets them know they're entering a space meant for fun and games.
Behind the Main Seating Area
Installing the gaming neon sign on the wall behind the main seating area, such as a couch or a set of lounge chairs, ensures that it becomes a focal point of the room. This placement allows everyone in the room to enjoy the vibrant colours and lively ambience.
Above the Game Table
If you have a specific game table like a pool table, foosball table, or poker table, consider placing the neon sign directly above it. This draws attention to the central activity of the room and creates an exciting atmosphere for players.
Adjacent to Wall Art
If you have other game-themed wall art or posters, you could place the neon sign next to or among them. This creates a cohesive theme and enhances the visual appeal of the entire wall. It is an addition to neon signs for home decor.
In a Dark Corner
If your game room has a dark or less illuminated corner, placing the neon sign there can instantly brighten the space and make it more inviting. The contrast between the neon lights and the dimmer corner can create a striking visual effect.
Dimensions
Available in various sizes to suit your game room space: 18"x12", 24"x16", and 36"x24".
Vibrant neon hues that add an exciting and dynamic touch to your gaming haven.
Crafted from high-quality neon glass tubing for a sleek and modern finish.
Features the phrase "Game Room" in a playful font, capturing the essence of gaming culture.
Designed for easy wall installation with pre-drilled holes, ensuring a hassle-free setup.
Powered by energy-efficient LED technology, providing a vivid and consistent glow.
When you buy any Neon Sign from NeonChamp, you can expect your order to arrive promptly anywhere in the USA. Whether you choose the rush or standard shipping option, we do our best to get your Neon Signs to you as soon as possible!
To safeguard your delivery, we offer a non-confusing, clear refund policy. You can reach out to us for a full refund if the neon lights are faulty or damaged during transit.
Shipping Details
Unboxing Your Neon Sign Kit
We know you are excited to receive your Neon Sign, which we pack with loads of love. But what's inside should not be a mystery to you, that is why we uncover all the details.
All the Neon signs that we send are well-equipped with clear acrylic boards having pre-drilled holes and SS mounting screws which makes hanging easy. Also, the neon signs are clubbed with a power cord which you can attach to the power adapter. Also, you get an option to adjust the brightness of your custom-made neon sign via a remote controller.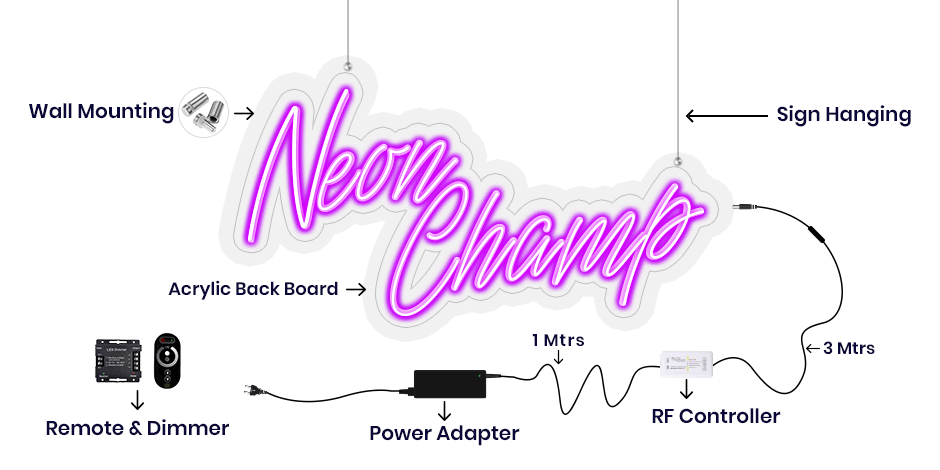 Glow Your Neon Sign in Style with NeonChamp
First begin by plugging in the power adapter
Insert the power adapter safely to ensure that the neon light get started as you want
Next, connect the power adapter output to RF Controller
Now that the power adapter is safely inserted it's time to connect the power adapter to RF controller
Now connect RF Controller output to the Neon Connector
Next, connect the RF controller to the neon connector which is a very simple process and won't take much time
Adjust Brightness with remote controller and done.
Set the brightness using a remote controller according to your décor or mood and get it started.
Why NeonChamp
Energy & Cost Efficient

Free Delivery

3 Years Warranty

Save & Secure Checkout
Ready to level up your game room?
Add a splash of colour to your game haven. Get your Game Room Neon Sign today and make your playtime unforgettable!