Product Description
Product Details
Shipping & Delivery
What You Get
Product Installation Guide
The "Harley-Davidson Neon Sign" embodies the legendary brand in vibrant neon lights, capturing the thrill of the ride. Its dynamic design pays homage to the timeless Harley-Davidson legacy, making it a must-have for riders and collectors alike.
Best Places to Install Harley Davidson Neon Sign
Garage Retreat
Transform your garage into a biker's haven by showcasing the Harley-Davidson Neon Sign Every time you step into your motorcycle sanctuary, you'll be greeted by the iconic glow that encapsulates the spirit of the road.
Biker Bar Atmosphere
Elevate the ambience of your biker-themed bar with the radiance of the Harley-Davidson Neon Sign It's the perfect addition to create an immersive and authentic experience for patrons who share a love for the ride.
Man Cave Focal Point
Make a bold statement in your man cave by featuring the Harley-Davidson Neon Sign Whether surrounded by vintage memorabilia or modern décor, the sign adds a touch of nostalgia and adventure that complements your space.
Motorcycle Dealership Showcase
If you're a proud Harley-Davidson dealer, hang the neon sign in your showroom to draw attention to the heart of your collection. Its vivid illumination will highlight the brand's legacy and attract fellow enthusiasts.
Café Cruiser Corner
Create an inviting corner in your café or hangout spot dedicated to motorcycle enthusiasts. The Harley-Davidson Neon Sign serves as a focal point that encourages riders to gather, share stories, and celebrate the camaraderie of the open road.
Distinctive neon sign capturing the essence of Harley-Davidson.
Ideal for personal spaces, bars, dealerships, and themed venues.
Emits a sense of adventure and timeless biker spirit.
When you buy any Neon Sign from NeonChamp, you can expect your order to arrive promptly anywhere in the USA. Whether you choose the rush or standard shipping option, we do our best to get your Neon Signs to you as soon as possible!
To safeguard your delivery, we offer a non-confusing, clear refund policy. You can reach out to us for a full refund if the neon lights are faulty or damaged during transit.
Shipping Details
Unboxing Your Neon Sign Kit
We know you are excited to receive your Neon Sign, which we pack with loads of love. But what's inside should not be a mystery to you, that is why we uncover all the details.
All the Neon signs that we send are well-equipped with clear acrylic boards having pre-drilled holes and SS mounting screws which makes hanging easy. Also, the neon signs are clubbed with a power cord which you can attach to the power adapter. Also, you get an option to adjust the brightness of your custom-made neon sign via a remote controller.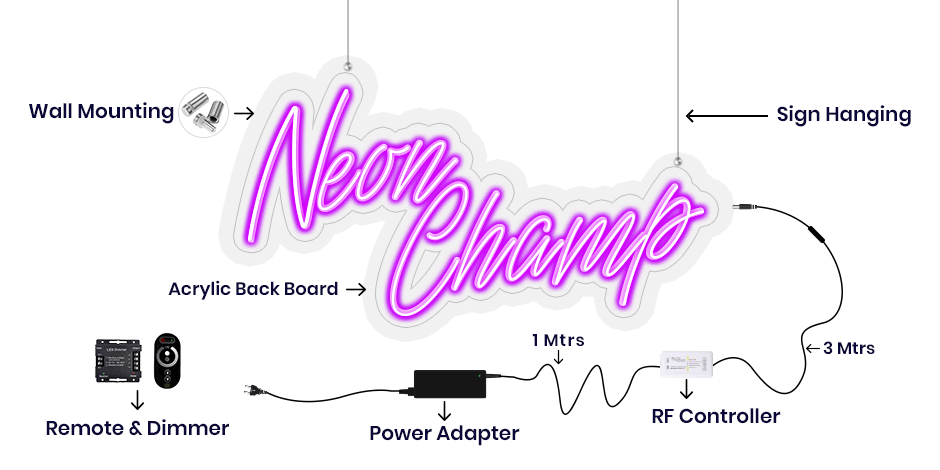 Glow Your Neon Sign in Style with NeonChamp
First begin by plugging in the power adapter
Insert the power adapter safely to ensure that the neon light get started as you want
Next, connect the power adapter output to RF Controller
Now that the power adapter is safely inserted it's time to connect the power adapter to RF controller
Now connect RF Controller output to the Neon Connector
Next, connect the RF controller to the neon connector which is a very simple process and won't take much time
Adjust Brightness with remote controller and done.
Set the brightness using a remote controller according to your décor or mood and get it started.
Why NeonChamp
Energy & Cost Efficient

Free Delivery

3 Years Warranty

Save & Secure Checkout
Get the 'Harley-Davidson Neon Sign' and ride the neon wave!
Let the 'Harley-Davidson Neon Sign' ignite your passion for the open road.