Product Description
Product Details
Shipping & Delivery
What You Get
Product Installation Guide
Be it creating a statement or making your lady love happy, the "Hello Gorgeous" neon sign light is the ultimate neon sign to make your life a happy place to be.
This neon sign is beautifully crafted with precision and highlights the feminine qualities within every woman through its pinkish glow. It is suitable for your spa, your wedding, or even your bedroom to awaken the inner goddess within you and other ladies.
Best Places to Install Hello Gorgeous Neon Signs
Wedding
What is a better way to steal ladies' attention at a wedding, that customized neon sign that says, "Hello Gorgeous"? Nothing right. So, put it at your wedding and let the fun begin.
Bedroom
Add personality to your bedroom with our custom light-up signs for the bedroom. So, every time you enter your bedroom, the "Hello Gorgeous" sign will greet you and instantly uplift you.
Learn more about our Hello Gorgeous Neon Sign
Get Your Neon Sign in Three Sizes
Hello Gorgeous neon light sign is available in three assorted sizes: small, medium, and large.
Vibrant neon colors
Hello Gorgeous comes with LED lights that radiate vibrant neon colors.
All the Hello Gorgeous neon light signs are crafted individually by Neon Champ's artists. Once we confirm your order, your customized neon sign goes to production and can take up to three weeks to reach your home.
Currently, we are providing two shipping options for our custom neon signs: Standard and Rush shipping. In case you want your order early, please choose the rush option during checkout. We try our best to deliver your sign within two weeks of ordering.
For any sign that is damaged during transit or has a defect, NeonChamp provides a return facility. Simply contact us, and we will get back to you.
Shipping Details
Unboxing Your Neon Sign Kit
We know you are excited to receive your custom Hello Gorgeous Neon Sign, which we pack with loads of love. But what's inside should not be a mystery to you, that is why we uncover all the details.
All the Neon signs that we send are well-equipped with clear acrylic boards having pre-drilled holes and SS mounting screws which makes hanging easy. Also, the neon signs are clubbed with a power cord which you can attach to power adapter. Also, you get an option to adjust the brightness of your custom-made neon sign via a remote controller.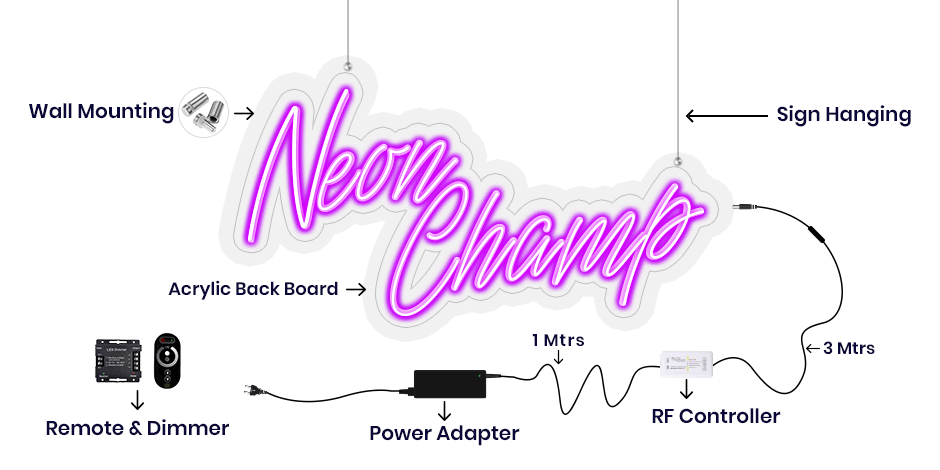 Glow Your Neon Sign in Style with NeonChamp
First begin by plugging in the power adapter
Insert the power adapter safely to ensure that the neon light get started as you want
Next, connect the power adapter output to RF Controller
Now that the power adapter is safely inserted it's time to connect the power adapter to RF controller
Now connect RF Controller output to the Neon Connector
Next, connect the RF controller to the neon connector which is a very simple process and won't take much time
Adjust Brightness with remote controller and done.
Set the brightness using a remote controller according to your décor or mood and get it started.
Why NeonChamp
Energy & Cost Efficient

Free Delivery

3 Years Warranty

Save & Secure Checkout
Get Your Customized "Hello Gorgeous Neon Sign" with NeonChamp
Brighten up your love with our Customized Neon Sign.