Product Description
Product Details
Shipping & Delivery
What You Get
Product Installation Guide
Celebrate in style with our captivating "It's My Birthday" Neon Light Sign. Crafted to infuse your special day with radiance, this sign adds a touch of magic and charm to any birthday celebration. Meticulously designed to capture attention, this neon sign embodies the joy of birthdays. Its vibrant glow and festive message create an inviting ambiance that will make the birthday person feel truly special.
Best Places to Install It's My Birthday Neon Light Sign
Bedroom Door for husband's Birthday
Surprise the birthday person from the moment they wake up by placing the "It's My Birthday" neon sign on their bedroom door. It's a delightful way to start the day and set the tone for celebrations.
Dining Area
If you're planning a birthday breakfast, brunch, or dinner, having the neon sign as a centrepiece in the dining area can make the meal feel like a special event. It becomes a focal point where everyone gathers to celebrate.
Living Room or Party Area
Placing the neon sign in the living room or wherever the party activities are taking place ensures that everyone sees the sign and feels the festive vibe. It adds to the overall atmosphere of joy and celebration.
Photo Booth Backdrop
Designate an area for photos with the neon sign as a backdrop. This provides a perfect spot for guests to capture memories, and it adds a unique touch to the photos that will be cherished for years to come.
Cake and Dessert Table
The dessert table is a key focal point at any birthday celebration. Placing the neon sign above or near the cake and dessert display emphasizes the theme and highlights the importance of the occasion.
Materials
High-quality neon tubing with a sturdy backing
Illumination
Bright and energy-efficient neon lights
Mounting
Effortless installation with included hardware
Usage
Ideal for bedrooms, living rooms, party areas, and more
Message
Crystal-clear "It's My Birthday" text for instant recognition
Power Source
Easily powered through a standard electrical outlet
Durability
Built to last, ensuring repeated use for years to come
When you buy any Neon Sign from NeonChamp, you can expect your order to arrive promptly anywhere in the USA. Whether you choose the rush or standard shipping option, we do our best to get your Neon Signs to you as soon as possible!
To safeguard your delivery, we offer a non-confusing, clear refund policy. You can reach out to us for a full refund if the neon lights are faulty or damaged during transit.
Shipping Details
Unboxing Your Neon Sign Kit
We know you are excited to receive your Neon Sign, which we pack with loads of love. But what's inside should not be a mystery to you, that is why we uncover all the details.
All the Neon signs that we send are well-equipped with clear acrylic boards having pre-drilled holes and SS mounting screws which makes hanging easy. Also, the neon signs are clubbed with a power cord which you can attach to the power adapter. Also, you get an option to adjust the brightness of your custom-made neon sign via a remote controller.p>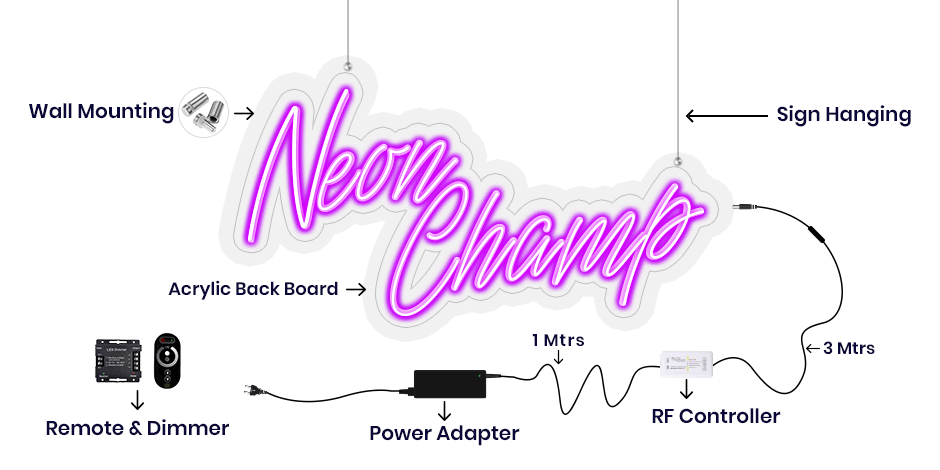 Glow Your Neon Sign in Style with NeonChamp
First begin by plugging in the power adapter
Insert the power adapter safely to ensure that the neon light get started as you want
Next, connect the power adapter output to RF Controller
Now that the power adapter is safely inserted it's time to connect the power adapter to RF controller
Now connect RF Controller output to the Neon Connector
Next, connect the RF controller to the neon connector which is a very simple process and won't take much time
Adjust Brightness with remote controller and done.
Set the brightness using a remote controller according to your décor or mood and get it started.
Why NeonChamp
Energy & Cost Efficient

Free Delivery

3 Years Warranty

Save & Secure Checkout
Make birthday celebration unforgettable with "It's My Birthday" Neon Light Sign
Illuminate the joy and excitement – order today and make their special day shine even brighter