Product Description
Product Details
Shipping & Delivery
What You Get
Product Installation Guide
The "KAWS Neon Sign" embodies modern creativity, blending urban street art and contemporary design in a captivating piece. With its unmistakable style, the sign pays homage to pop culture while infusing any space with artistic sophistication. Crafted to stand out, this neon masterpiece is more than a sign—it's a conversation starter, an expression of individuality, and a symbol of the intersection between culture and creativity.
Best Places to Install Kaws Neon Sign
Art Gallery Marvel
Hang the "KAWS Neon Sign" in an art gallery to infuse a modern, vibrant aura that aligns with contemporary artwork. The sign's artistic appeal and distinctive design will complement various art forms, sparking visitor conversations and enhancing the overall gallery experience.
Chic Urban Loft
Adorn the walls of an urban loft with the "KAWS Neon Sign" to add an avant-garde touch. Its blend of street art and pop culture references will effortlessly merge with the loft's trendy aesthetic, creating an inviting space that showcases individuality and creative expression.
High-End Fashion Boutique
Place the "KAWS Neon Sign" in a high-end fashion boutique to appeal to the fashion-forward crowd. The sign's fusion of art and fashion resonates with luxury brands, establishing a unique brand identity and attracting style-conscious shoppers seeking exclusive pieces.
Hip Coffee Hangout
Hang the "KAWS Neon Sign" in a hip coffee shop or café to infuse a sense of artistic energy. The sign's bold presence adds character to the space, attracting a diverse crowd of creatives, students, and trendsetters who appreciate the fusion of culture and caffeine.
Entertainment Venue Centrepiece
Position the "KAWS Neon Sign" as a central focal point in an entertainment venue, such as a nightclub or music lounge. The sign's dynamic visuals and urban vibe contribute to the venue's atmosphere, creating an immersive experience that resonates with the nightlife crowd.
Available in various sizes to suit your space: 18"x 24", 24"x 36", and 36"x 48".
Vibrant neon colours, including a captivating blend of blues, pinks, and purples.
Crafted from high-quality neon glass tubing for a sleek and modern aesthetic.
Showcases the iconic "KAWS" motif, capturing the essence of urban art and contemporary culture.
Easy to hang with pre-drilled holes; suitable for wall mounting or display on a clear acrylic backboard.
When you buy any Neon Sign from NeonChamp, you can expect your order to arrive promptly anywhere in the USA. Whether you choose the rush or standard shipping option, we do our best to get your Neon Signs to you as soon as possible!
To safeguard your delivery, we offer a non-confusing, clear refund policy. You can reach out to us for a full refund if the neon lights are faulty or damaged during transit.
Shipping Details
Unboxing Your Neon Sign Kit
We know you are excited to receive your Neon Sign, which we pack with loads of love. But what's inside should not be a mystery to you, that is why we uncover all the details.
All the Neon signs that we send are well-equipped with clear acrylic boards having pre-drilled holes and SS mounting screws which makes hanging easy. Also, the neon signs are clubbed with a power cord which you can attach to the power adapter. Also, you get an option to adjust the brightness of your custom-made neon sign via a remote controller.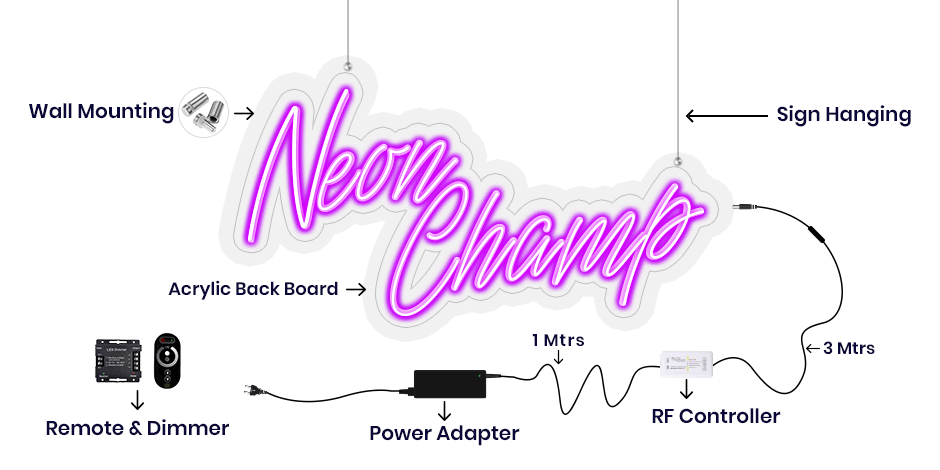 Glow Your Neon Sign in Style with NeonChamp
First begin by plugging in the power adapter
Insert the power adapter safely to ensure that the neon light get started as you want
Next, connect the power adapter output to RF Controller
Now that the power adapter is safely inserted it's time to connect the power adapter to RF controller
Now connect RF Controller output to the Neon Connector
Next, connect the RF controller to the neon connector which is a very simple process and won't take much time
Adjust Brightness with remote controller and done.
Set the brightness using a remote controller according to your décor or mood and get it started.
Why NeonChamp
Energy & Cost Efficient

Free Delivery

3 Years Warranty

Save & Secure Checkout
Own the Urban Vibe - Get Your KAWS Neon Sign Today!
Own the Glow of Creativity - Shop the KAWS Neon Sign Now!