Product Description
Product Details
Shipping & Delivery
What You Get
Product Installation Guide
Celebrate love in all its beautiful forms with our "Love is Love" Light Up Sign. This vibrant and heartwarming neon sign spreads a message of inclusivity and acceptance. Crafted with LED lights, these LED neon Signs illuminates any space with a warm and welcoming glow, making Love Neon Sign a perfect addition to your home, office, or as a thoughtful gift for someone special.
Best Places to Install Love is Love Light up Sign
Living Room:
Showcase your support for love and equality by placing neon light signs in your living room. It becomes a powerful statement piece, radiating positivity and love to all who enter your home. Bedroom: Create a cozy and romantic atmosphere in your bedroom by installing neon signs for bedroom above your bed or on a prominent wall. It serves as a daily reminder to embrace love and celebrate diversity.
Wedding Venue:
Add a touch of love and inclusivity to your wedding venue. Display the "Love is Love" sign as a centerpiece or backdrop to honor and recognize all types of love on your special day.
LGBTQ+ Support Centers:
Illuminate the spaces dedicated to supporting and advocating for the LGBTQ+ community. Install the sign in community centers, counseling offices, or support groups to create an environment of acceptance and love.
Office or Workplace:
Foster an inclusive and welcoming work environment by placing the sign in common areas or conference rooms. It sends a powerful message that embraces diversity and encourages respect for all.
LED lights create a vibrant and eye-catching display of the "Love is Love" message.
Available in various sizes to fit different spaces and preferences.
Can be easily mounted on walls or displayed on any flat surface.
Crafted with durable materials for long-lasting use.
Suitable for both indoor and covered outdoor spaces.
When you buy any Neon Sign from NeonChamp, you can expect your order to arrive promptly anywhere in the USA. Whether you choose the rush or standard shipping option, we do our best to get your Neon Signs to you as soon as possible!
To safeguard your delivery, we offer a non-confusing, clear refund policy. You can reach out to us for a full refund if the neon lights are faulty or damaged during transit.
Shipping Details
Unboxing Your Neon Sign Kit
We know you are excited to receive your Love is Love Light up Sign, which we pack with loads of love. But what's inside should not be a mystery to you, that is why we uncover all the details.
All the Neon signs that we send are well-equipped with clear acrylic boards having pre-drilled holes and SS mounting screws which makes hanging easy. Also, the neon signs are clubbed with a power cord which you can attach to the power adapter. Also, you get an option to adjust the brightness of your custom-made neon sign via a remote controller.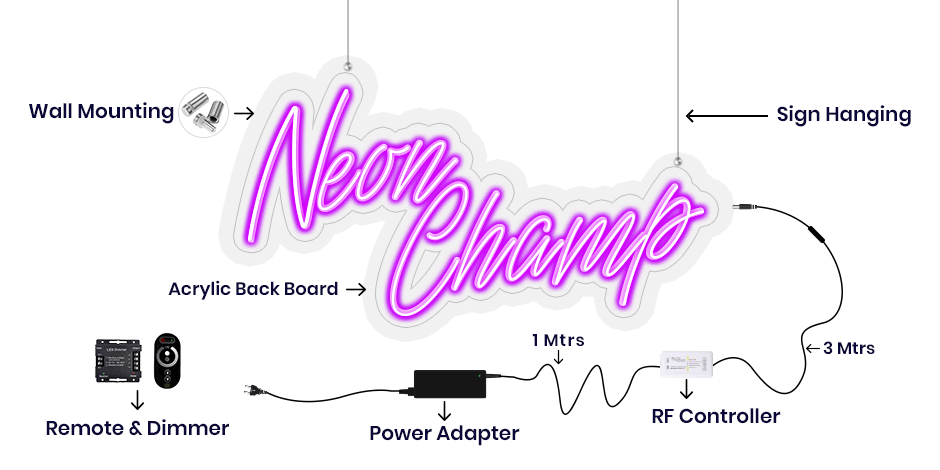 Glow Your Neon Sign in Style with NeonChamp
First begin by plugging in the power adapter
Insert the power adapter safely to ensure that the neon light get started as you want
Next, connect the power adapter output to RF Controller
Now that the power adapter is safely inserted it's time to connect the power adapter to RF controller
Now connect RF Controller output to the Neon Connector
Next, connect the RF controller to the neon connector which is a very simple process and won't take much time
Adjust Brightness with remote controller and done.
Set the brightness using a remote controller according to your décor or mood and get it started.
Why NeonChamp
Energy & Cost Efficient

Free Delivery

3 Years Warranty

Save & Secure Checkout
Get Your Customized "Love is Love Neon Sign" With NeonChamp
"Let Love Shine: Illuminate Your Space with our 'Love is Love' neon signs for home decor!"