Product Description
Product Details
Shipping & Delivery
What You Get
Product Installation Guide
Capture the essence of everlasting love with our Marry Me LED Neon Sign. Crafted to perfection, this enchanting sign radiates romance and sets the stage for a heartfelt proposal or celebration of commitment. The soft glow of the LED lights creates an intimate ambiance, making every moment more magical. Whether displayed in a proposal setting, engagement party, or as a cherished home decor piece, our Marry Me LED Neon Sign adds a touch of romance and creates memories that will last a lifetime.
Best Places to Install Marry Me LED Neon Sign:
Engagement Party:
Set the tone for a celebration of love by featuring the Marry Me LED Neon Sign at an engagement party. Display it as a centerpiece or hang it on a wall, adding a whimsical and romantic element to the festivities and emphasizing the joyous occasion.
Wedding Venue:
Add a charming and personalized touch to your wedding venue with the Marry Me LED Neon Sign. Place it near the entrance or at the sweetheart table, creating a focal point that enhances the romantic ambiance and serves as a beautiful backdrop for photos.
Home Decor:
Bring the magic of love into your home by incorporating the Marry Me LED Neon Sign into your decor. Hang it in a bedroom, living room, or hallway, reminding you and your partner of the commitment and love you share, making everyday moments even more special.
Check out the feel and vibes of your Marry Me LED Neon Sign which will look amazing on your walls.
Varied Sizes:
Marry Me LED Neon Sign comes in three different sizes: small, medium, and large. Choose the one that best fits your needs.
Vibrant colors:
Our neon flex LED signs come in varied colors so you can choose your favorite color.
Varied Styles:
Want something out of the box? Well Buy Marry Me LED Neon Sign Online in varied styles and place it where you like.
Once you have shared your Marry Me Neon Lights requirements with us, we will begin work on it as soon as possible. Our team makes your neon lights with a lot of love as we know how important these words are to you.
With us, you can expect fast and secure delivery at your doorstep within a specified period. Our neon lights are available in two types of shipping: Standard and Rush shipping. If you are too late to order your Marry Me sign, you can go with rush shipping and get your lights within two weeks.
We pack your product in the safest box so that there is no room for any damage. In case any damage occurs, you can contact our customer care services, we will replace your order soon.
Shipping Details
Unboxing Your Neon Sign Kit
We know you are excited to receive your custom Marry Me LED Neon Sign, which we pack with loads of love. But what's inside should not be a mystery to you, that is why we uncover all the details.
All the Neon signs that we send are well-equipped with clear acrylic boards having pre-drilled holes and SS mounting screws which makes hanging easy. Also, the neon signs are clubbed with a power cord which you can attach to power adapter. Also, you get an option to adjust the brightness of your custom-made neon sign via a remote controller.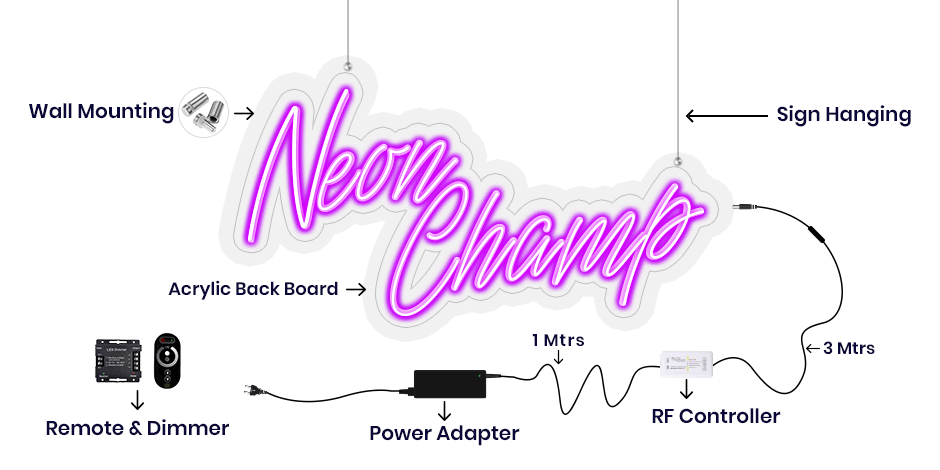 Glow Your Neon Sign in Style with NeonChamp
First begin by plugging in the power adapter
Insert the power adapter safely to ensure that the neon light get started as you want
Next, connect the power adapter output to RF Controller
Now that the power adapter is safely inserted it's time to connect the power adapter to RF controller
Now connect RF Controller output to the Neon Connector
Next, connect the RF controller to the neon connector which is a very simple process and won't take much time
Adjust Brightness with remote controller and done.
Set the brightness using a remote controller according to your décor or mood and get it started.
Why NeonChamp
Energy & Cost Efficient

Free Delivery

3 Years Warranty

Save & Secure Checkout
Get Your "Marry Me LED Neon Sign" with NeonChamp
Symbolize eternal love with our Marry Me LED Neon Sign.