Why NeonChamp
Custom Designed

Energy & Cost Efficient

Durable

Easy Installation

Free Delivery

Free Returns

3 Years Warranty

Save & Secure Checkout
Join the Mr and Mrs team with our lovely Mr and Mrs neon sign. Add it to your wedding or just to your bedroom if you are already married and remind yourself that you are hitched forever!
This LED cursive Mr & Mrs neon sign is beautifully crafted and mounted on high-quality transparent acrylic to support it. When you display this sign, people around will be spellbound by its beauty. So, make the most of your beautiful day with our custom LED Mr & Mrs sign.
Best Place for Mr. & Mrs. Sign
Weddings
Declare to the world that you two are made for each other with a Mr & Mrs neon sign.
Living Space
Get a daily reminder that you are hitched forever and relive your beautiful memories by placing this sign in your living space.
Learn more about our Mr & Mrs custom LED neon sign.
Varied Sizes
The sign comes in three varied sizes: small, medium, and large, to fit it perfectly anywhere you want.
Durable
Unlike glass neon signs, LED signs are durable and will last longer.
Worldwide Shipping
Whether you live in the US or any remote corner of the world, there is no place where we do not ship Mr & Mrs sign.
Easy to Install
Say goodbye to messy installations with our easy-to-install neon sign. Our sign is pre-mounted on a high-quality acrylic board drilled with holes for mess-free installation.
Low Energy Consumption, Higher Brightness
LED used in the sign is energy efficient and does not consume much power. Additionally, it produces the brightest lights even at low power.
At NeonChamp, we provide worldwide shipping so that you can get our sign from any corner of the world. Since the signs are handcrafted, it takes three weeks to craft and reach your doorstep. If you are in a hurry, please choose the rush order option to let us know when you want your sign delivered, and we will try our best so that you get it on time. We provide refunds and returns if the sign is damaged during transit or faulty.
Unboxing Your Neon Sign Kit
We know you are excited to receive your custom Mr & Mrs Neon Sign, which we pack with loads of love. But what's inside should not be a mystery to you, that is why we uncover all the details.
All the Neon signs that we send are well-equipped with clear acrylic boards having pre-drilled holes and SS mounting screws which makes hanging easy. Also, the neon signs are clubbed with a power cord which you can attach to power adapter. Also, you get an option to adjust the brightness of your custom-made neon sign via a remote controller.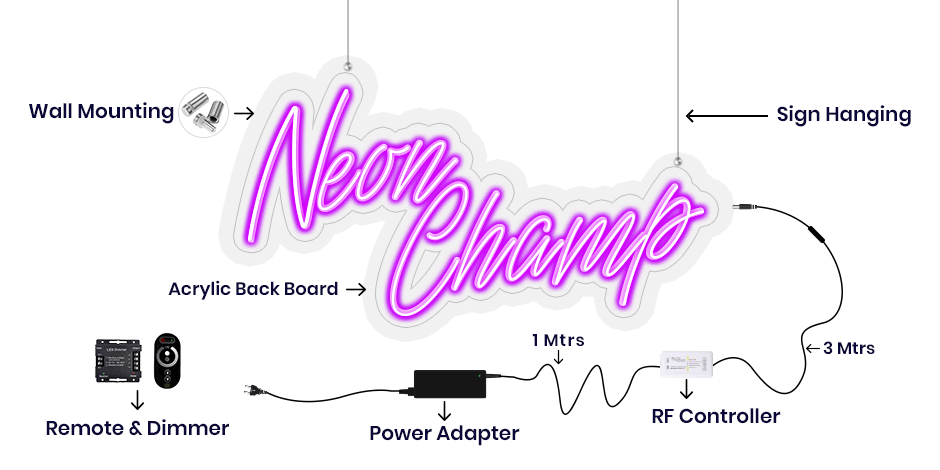 Glow Your Neon Sign in Style with NeonChamp
First begin by plugging in the power adapter
Insert the power adapter safely to ensure that the neon light get started as you want
Next, connect the power adapter output to RF Controller
Now that the power adapter is safely inserted it's time to connect the power adapter to RF controller
Now connect RF Controller output to the Neon Connector
Next, connect the RF controller to the neon connector which is a very simple process and won't take much time
Adjust Brightness with remote controller and done.
Set the brightness using a remote controller according to your décor or mood and get it started.
Join the Mr & Mrs Neon Sign Team With Our "Mr & Mrs Neon Sign"
Remind your significant other that they are only yours with this Mr & Mrs Neon Sign custom neon LED sign.