Why NeonChamp
Custom Designed

Energy & Cost Efficient

Durable

Easy Installation

Free Delivery

Free Returns

3 Years Warranty

Save & Secure Checkout
Get ready to level up your Easter festivities with our eye-catching Personalized Neon Easter Eggs neon sign board! These one-of-a-kind decorative pieces are perfect for adding a vibrant and modern twist to your holiday celebrations. Featuring customizable options that allow you to express your creativity and personal style, our Neon Easter Eggs are guaranteed to impress your guests and make your Easter décor truly unforgettable. Get your Easter neon signs designed from the best neon company in USA.
Best Places to Install Neon Easter Eggs
Incorporate your Personalized Neon Easter Eggs into your holiday décor, creating a vibrant and modern display that will be the talk of the town.
Use Easter special LED Neon Signs for a unique and unforgettable Easter egg hunt, where each participant searches for their very own customized egg.
Gift these decorative indoor signs as thoughtful and personalized keepsakes for friends and family, adding a special touch to their Easter celebrations.
Choose from a wide array of dazzling neon colors to create the perfect décor with these flex LED neon signs for your Easter celebrations, ensuring they stand out and leave a lasting impression.
Personalize each egg LED Neon sign with your choice making them a unique and memorable gift for your loved ones.
Select from various font styles and sizes to match your desired aesthetic and add a touch of flair to your LED Neon Easter Eggs lights.
When you buy any Neon Lights from NeonChamp, you can expect your order to arrive promptly anywhere in the USA. Whether you choose the rush or standard shipping option, we do our best to get your Neon Signs to you as soon as possible!
To safeguard your delivery, we offer a non-confusing clear refund policy. In addition, you can reach out to us for a full refund if the neon lights are faulty or damaged during transit.
Shipping Details
Unboxing Your Neon Sign Kit
We know you are excited to receive your Neon Easter Eggs, which we pack with loads of love. But what's inside should not be a mystery to you; that is why we uncover all the details.
All the Neon signs we send are well-equipped with clear acrylic boards with pre-drilled holes and SS mounting screws, making hanging easy. Also, the neon signs are clubbed with a power cord which you can attach to the power adapter. Also, you can adjust the brightness of your custom-made neon sign via a remote controller.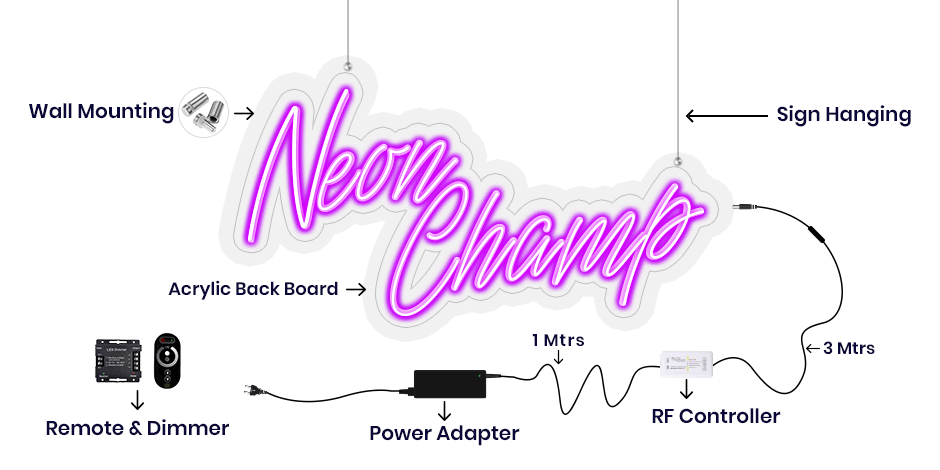 Glow Your Neon Sign in Style with NeonChamp
First begin by plugging in the power adapter
Insert the power adapter safely to ensure that the neon light get started as you want
Next, connect the power adapter output to RF Controller
Now that the power adapter is safely inserted it's time to connect the power adapter to RF controller
Now connect RF Controller output to the Neon Connector
Next, connect the RF controller to the neon connector which is a very simple process and won't take much time
Adjust Brightness with remote controller and done.
Set the brightness using a remote controller according to your décor or mood and get it started.
Get Your Customized "Neon Easter Eggs" With NeonChamp
Unleash Your Creativity with Our Stunning Customizable Neon Easter Eggs Signs