Product Description
Product Details
Shipping & Delivery
What You Get
Product Installation Guide
Create the ultimate retreat with our Neon Man Cave Sign. Crafted with attention to detail, this vibrant sign adds a touch of personality to any man cave. Whether displayed on a wall or mounted on a shelf, our Neon Man Cave Sign sets the tone for a space dedicated to relaxation, hobbies, and camaraderie. Illuminate your sanctuary with this eye-catching and expressive neon sign, making your man cave the envy of all.
Best Places to Install Man Cave Neon Sign:
Man Cave:
The most obvious and perfect place to install the Man Cave Neon Sign is right in your man cave itself. Hang it on a wall, prominently displaying it as a centerpiece, setting the tone for your personal retreat and adding a touch of personality to your space.
Home Bar:
If your man cave includes a home bar or a designated area for drinks and entertainment, consider featuring the Man Cave Neon Sign in this space. Hang it behind the bar counter or display it on a wall, enhancing the atmosphere and giving your bar area a distinct and stylish touch.
Game Room:
If your man cave includes a game room or a dedicated space for gaming and entertainment, the Man Cave Neon Sign would be a great addition. Install it near your gaming setup or display it on a wall, creating a fun and inviting environment that complements your gaming sessions and adds a touch of personality to your gaming space.
Garage or Workshop:
For those who have a garage or workshop as part of their man cave, consider featuring the Man Cave Neon Sign in this area. Hang it on a wall or place it on a workbench, adding a cool and decorative element to your creative or DIY space, making it feel more personalized and inviting.
Check out the feel and vibes of your Neon Man Cave Sign which will look amazing on your walls.
Varied Sizes:
Neon Man Cave Sign comes in three different sizes: small, medium, and large. Choose the one that best fits your needs.
Vibrant colors:
Our neon flex LED signs come in varied colors so you can choose your favorite color.
Varied Styles:
Want something out of the box? Well Neon Man Cave Sign Online in varied styles and place it where you like.
With two shipping options rush and standard shipping, we do our best to deliver your neon signs for man cave to your doorstep! To safeguard your delivery, we offer a non-confusing clear refund policy wherein if the signs are faulty or got damaged during transit, you can reach out to us for a full refund claim.
Shipping Details
Unboxing Your Neon Sign Kit
We know you are excited to receive your custom Neon Man Cave Sign, which we pack with loads of love. But what's inside should not be a mystery to you, that is why we uncover all the details.
All the Neon signs that we send are well-equipped with clear acrylic boards having pre-drilled holes and SS mounting screws which makes hanging easy. Also, the neon signs are clubbed with a power cord which you can attach to power adapter. Also, you get an option to adjust the brightness of your custom-made neon sign via a remote controller.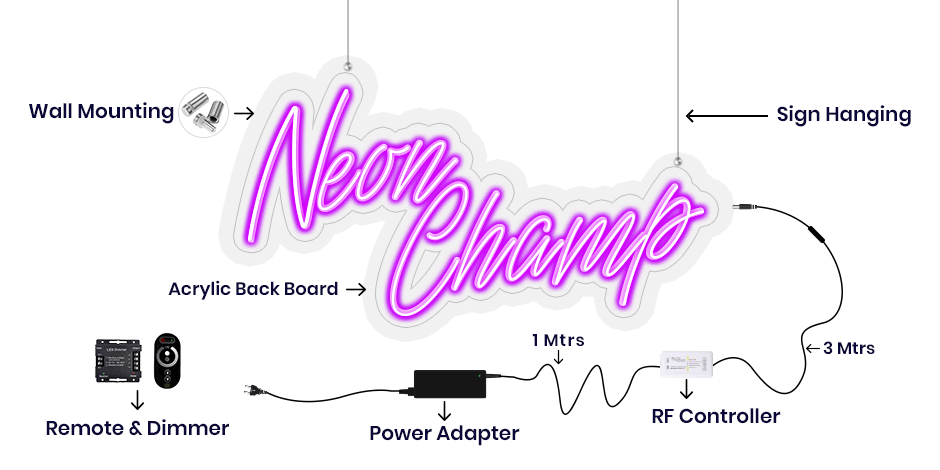 Glow Your Neon Sign in Style with NeonChamp
First begin by plugging in the power adapter
Insert the power adapter safely to ensure that the neon light get started as you want
Next, connect the power adapter output to RF Controller
Now that the power adapter is safely inserted it's time to connect the power adapter to RF controller
Now connect RF Controller output to the Neon Connector
Next, connect the RF controller to the neon connector which is a very simple process and won't take much time
Adjust Brightness with remote controller and done.
Set the brightness using a remote controller according to your décor or mood and get it started.
Why NeonChamp
Energy & Cost Efficient

Free Delivery

3 Years Warranty

Save & Secure Checkout
Get Your "Neon Man Cave Sign" with NeonChamp
Personalize your sanctuary with our Neon Man Cave Sign, adding a vibrant touch to your ultimate retreat space.