Product Description
Product Details
Shipping & Delivery
What You Get
Product Installation Guide
Welcome customers with our vibrant Neon Open Sign. Crafted with attention to detail, this eye-catching sign features bold and glowing letters that announce your business is open. Whether displayed in a storefront window or hung on a wall, our Neon Open Sign captures attention and invites customers to step inside. Illuminate your business with this visually striking and effective marketing tool, signaling your availability and creating a warm and inviting atmosphere.
Best Places to Install Neon Open Sign:
Storefront Window:
Make a bold statement and catch the attention of passersby by installing the Neon Open Sign in your storefront window. The bright and vibrant glow of the sign will immediately draw attention and let potential customers know that your business is open and ready to serve them.
Entrance or Doorway:
Place the Neon Open Sign near the entrance or doorway of your establishment to create a welcoming and inviting atmosphere. This ensures that anyone approaching your business can easily spot the sign and feel encouraged to enter and explore what you have to offer.
Reception or Front Desk:
Install the Neon Open Sign at the reception area or front desk of your business. This immediately sets a positive and welcoming tone for visitors or clients as they enter your space, giving them a clear indication that you are ready to assist them and provide excellent service.
Check out the feel and vibes of your Neon Open Sign which will look amazing on your walls.
Varied Sizes:
Neon Open Sign comes in three different sizes: small, medium, and large. Choose the one that best fits your needs.
Vibrant colors:
Our neon flex LED signs come in varied colors so you can choose your favorite color.
Varied Styles:
Want something out of the box? Well Neon Open Sign Online in varied styles and place it where you like.
We bring you two shipping solutions – Rush for quick delivery and standard choice for no-hurry delivery. Choose one as per your choice and feel worry-free about the shipment as we send it to your place with utmost care.
Shipping Details
Unboxing Your Neon Sign Kit
We know you are excited to receive your custom Neon Open Sign, which we pack with loads of love. But what's inside should not be a mystery to you, that is why we uncover all the details.
All the Neon signs that we send are well-equipped with clear acrylic boards having pre-drilled holes and SS mounting screws which makes hanging easy. Also, the neon signs are clubbed with a power cord which you can attach to power adapter. Also, you get an option to adjust the brightness of your custom-made neon sign via a remote controller.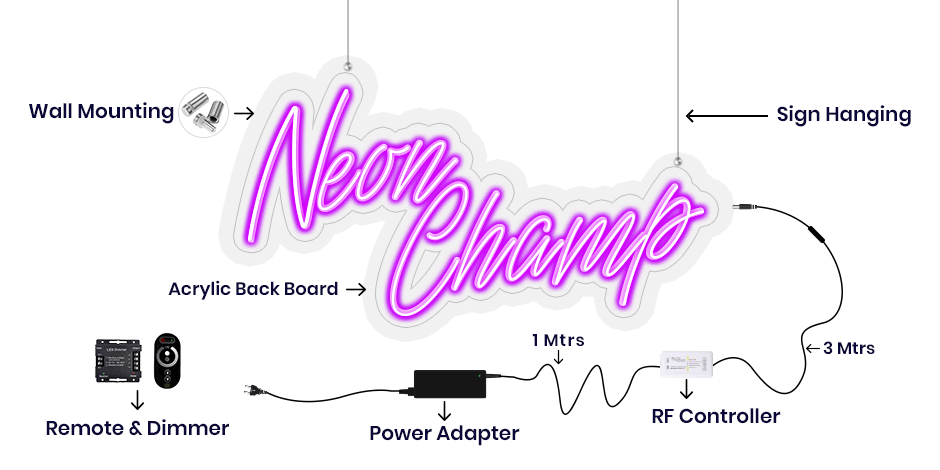 Glow Your Neon Sign in Style with NeonChamp
First begin by plugging in the power adapter
Insert the power adapter safely to ensure that the neon light get started as you want
Next, connect the power adapter output to RF Controller
Now that the power adapter is safely inserted it's time to connect the power adapter to RF controller
Now connect RF Controller output to the Neon Connector
Next, connect the RF controller to the neon connector which is a very simple process and won't take much time
Adjust Brightness with remote controller and done.
Set the brightness using a remote controller according to your décor or mood and get it started.
Why NeonChamp
Energy & Cost Efficient

Free Delivery

3 Years Warranty

Save & Secure Checkout
Get Your "Neon Open Sign" with NeonChamp
Open for business! Our vibrant neon sign welcomes you.