Product Description
Product Details
Shipping & Delivery
What You Get
Product Installation Guide
Step into the realm of professional recording with our stunning Neon Recording Sign. Designed to merge style with practicality, this sign is the perfect addition to your studio setup. Illuminate your creative space with a vibrant glow that captures the essence of your artistic pursuits.
Best Places to Install Neon Recording Sign
Home Studio Entrance
Installing the Neon Recording Sign near the entrance of your home studio immediately sets the tone for a professional recording environment. It welcomes you and others into a dedicated space for creativity and recording.
Recording Booth Door
Placing the Neon Recording Sign on the door of your recording booth indicates when you're in a session, ensuring that others know not to disturb you during recordings. It adds a touch of authenticity to your setup.
Behind the Recording Area
Mounting the neon sign on the wall behind the main recording area, whether it's a vocal booth or an instrument setup, can create an appealing visual backdrop for video content or live streams. It adds visual interest to your recordings.
Staircase Wall
Install the neon sign along the wall of a staircase leading to your recording space. This can create a dynamic visual as people ascend or descend the stairs.
Recording Equipment Wall
Installing the Neon Recording Sign on a wall with your recording equipment can make it a focal point in the room. It serves as a reminder that creativity is in progress and adds a professional touch to your setup.
Material
Premium-quality neon tubing and durable backing
Illumination
Bright and energy-efficient neon lights
Mounting
Effortless installation with included hardware
Usage
Suitable for studios, home recording spaces, podcast setups, and more
Functionality Clearly indicates recording in progress for a distraction-free environment
Aesthetic
Adds a unique and professional visual element to your space
Power Source
Easily powered through a standard electrical outlet
Durability
Built to withstand extended usage without compromising quality
When you buy any Neon Sign from NeonChamp, you can expect your order to arrive promptly anywhere in the USA. Whether you choose the rush or standard shipping option, we do our best to get your Neon Signs to you as soon as possible!
To safeguard your delivery, we offer a non-confusing, clear refund policy. You can reach out to us for a full refund if the neon lights are faulty or damaged during transit.
Shipping Details
Unboxing Your Neon Sign Kit
We know you are excited to receive your Neon Sign, which we pack with loads of love. But what's inside should not be a mystery to you, that is why we uncover all the details.
All the Neon signs that we send are well-equipped with clear acrylic boards having pre-drilled holes and SS mounting screws which makes hanging easy. Also, the neon signs are clubbed with a power cord which you can attach to the power adapter. Also, you get an option to adjust the brightness of your custom-made neon sign via a remote controller.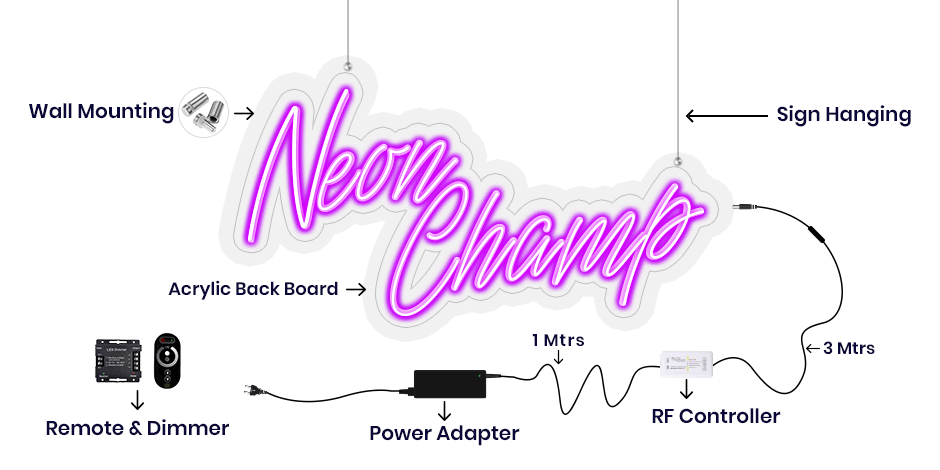 Glow Your Neon Sign in Style with NeonChamp
First begin by plugging in the power adapter
Insert the power adapter safely to ensure that the neon light get started as you want
Next, connect the power adapter output to RF Controller
Now that the power adapter is safely inserted it's time to connect the power adapter to RF controller
Now connect RF Controller output to the Neon Connector
Next, connect the RF controller to the neon connector which is a very simple process and won't take much time
Adjust Brightness with remote controller and done.
Set the brightness using a remote controller according to your décor or mood and get it started.
Why NeonChamp
Energy & Cost Efficient

Free Delivery

3 Years Warranty

Save & Secure Checkout
Transform your recording space into a professional haven with our Neon Recording Sign.
Illuminate your creativity and enhance your environment. Elevate your recordings today – order now!