Product Description
Product Details
Shipping & Delivery
What You Get
Product Installation Guide
Our Soft Serve Ice Cream Neon Sign is a bright and whimsical addition to your space, bringing a dash of summer cheer all year round. These are glowing symbols of joy, making any room feel like an ice cream parlor. This LED neon sign is perfect for those looking to create a fun and playful ambiance, be it at an ice cream shop, a party, or a personal dessert corner.
Made from high-quality, durable materials, this neon food sign emits a beautiful glow that instantly lifts the mood. Easy to install and energy-efficient, try our café neon sign which are functional and a delightful piece of decor.
Best Places to Install Soft Serve Ice Cream Neon Sign
Ice Cream Shop:
A perfect way to signal to customers what your business offers.
Dessert Corner in Restaurant or Cafe:
This can guide customers to the dessert section.
Kitchen/Dining Room:
As a quirky decor piece for ice cream lovers.
Outdoor Garden for Kids' Party:
Creates a fun and playful ambiance for children's gatherings.
Event Booths at Fairs and Festivals:
Makes your ice cream stand more visible and inviting.
Our Soft Serve Ice Cream Neon Sign brings the sweetness of summer to your space all year round. The sign's charming design and glowing lights are perfect for creating a playful atmosphere.
Vibrant LED neon display
High-quality, durable construction
Easy installation with mounting hardware included
Energy-saving and environmentally friendly
Ideal for both indoor and outdoor use
Beautiful color options
Different size options
When you buy any Neon Sign from NeonChamp, you can expect your order to arrive promptly anywhere in the USA. Whether you choose the rush or standard shipping option, we do our best to get your Neon Signs to you as soon as possible!
To safeguard your delivery, we offer a non-confusing, clear refund policy. You can reach out to us for a full refund if the neon lights are faulty or damaged during transit.
Shipping Details
Unboxing Your Neon Sign Kit
We know you are excited to receive your soft serve ice cream Neon Sign, which we pack with loads of love. But what's inside should not be a mystery to you, that is why we uncover all the details.
All the Neon signs that we send are well-equipped with clear acrylic boards having pre-drilled holes and SS mounting screws which makes hanging easy. Also, the neon signs are clubbed with a power cord which you can attach to the power adapter. Also, you get an option to adjust the brightness of your custom-made neon sign via a remote controller.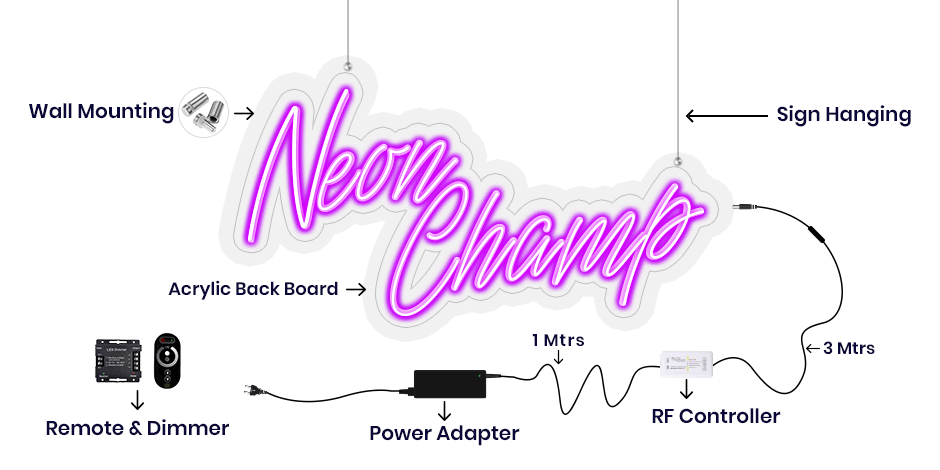 Glow Your Neon Sign in Style with NeonChamp
First begin by plugging in the power adapter
Insert the power adapter safely to ensure that the neon light get started as you want
Next, connect the power adapter output to RF Controller
Now that the power adapter is safely inserted it's time to connect the power adapter to RF controller
Now connect RF Controller output to the Neon Connector
Next, connect the RF controller to the neon connector which is a very simple process and won't take much time
Adjust Brightness with remote controller and done.
Set the brightness using a remote controller according to your décor or mood and get it started.
Why NeonChamp
Energy & Cost Efficient

Free Delivery

3 Years Warranty

Save & Secure Checkout
Get Your Ice Cream Neon Signs Designed With NeonChamp
Serving Up Fun, One Glow at a Time with LED Neon Flex Signs