Product Description
Product Details
Shipping & Delivery
What You Get
Product Installation Guide
The "Twenty One Neon Light Sign" is a captivating piece that encapsulates the energy of reaching the age of twenty-one. Its bold neon glow spells out "Twenty-One" in a sleek and stylish font, making it the ideal addition to any celebratory occasion. Whether it's a birthday bash, a nightclub event, or a special gathering, this neon sign radiates a sense of excitement and marks the beginning of new adventures.
Best Places to Install Twenty One Neon Light Sign
Birthday Bash Centre piece
Hang the "Twenty One Neon Light Sign" at the heart of a 21st birthday celebration. Its bold glow will not only light up the party but also serve as a focal point, symbolizing the milestone age and adding an unforgettable touch to the festivities.
Nightclub Glamour
Illuminate your nightclub or bar with the "Twenty-One Neon Light Sign." Its vibrant radiance complements the lively atmosphere, catching the eyes of patrons looking to celebrate and make memories. The sign's presence can also be used as a backdrop for photos, enhancing social media-worthy moments.
Restaurant Cheers
Install the "Twenty-One Neon Light Sign" in a restaurant or lounge area to create a designated space for special celebrations. This dynamic addition not only adds a sense of exclusivity but also encourages patrons to toast to life's memorable moments, enhancing the overall dining experience.
Dorm Room Elegance
Transform a dorm room into a sophisticated living space by featuring the "Twenty-One Neon Light Sign." It's a stylish way for college students to personalize their environment, making it feel more like home and celebrating the excitement of reaching the legal drinking age.
Retail Window Attraction
Place the "Twenty-One Neon Light Sign" in a retail window display to draw attention to promotions or events tailored for young adults. The sign's youthful energy resonates with the target demographic, inviting them to explore what your store offers.
Dimensions
Available in various sizes to suit your space: 18"x12", 24"x16", and 36"x24".
Colors
Bold and vivid neon hues that add a lively touch to any setting.
Material
Crafted from premium-quality neon glass tubing for durability and a sleek finish.
Design
Featuring the numbers "21" in an elegant and modern font, radiating celebratory vibes.
Installation
Equipped with pre-drilled holes for easy wall mounting or display on a clear acrylic backboard.
Illumination
Powered by efficient LED technology, offering a consistent and captivating glow.
Versatile Use
Ideal for birthdays, parties, nightclubs, or any occasion celebrating the excitement of turning twenty-one.
When you buy any Neon Sign from NeonChamp, you can expect your order to arrive promptly anywhere in the USA. Whether you choose the rush or standard shipping option, we do our best to get your Neon Signs to you as soon as possible!
To safeguard your delivery, we offer a non-confusing, clear refund policy. You can reach out to us for a full refund if the neon lights are faulty or damaged during transit.
Shipping Details
Unboxing Your Neon Sign Kit
We know you are excited to receive your Neon Sign, which we pack with loads of love. But what's inside should not be a mystery to you, that is why we uncover all the details.
All the Neon signs that we send are well-equipped with clear acrylic boards having pre-drilled holes and SS mounting screws which makes hanging easy. Also, the neon signs are clubbed with a power cord which you can attach to the power adapter. Also, you get an option to adjust the brightness of your custom-made neon sign via a remote controller.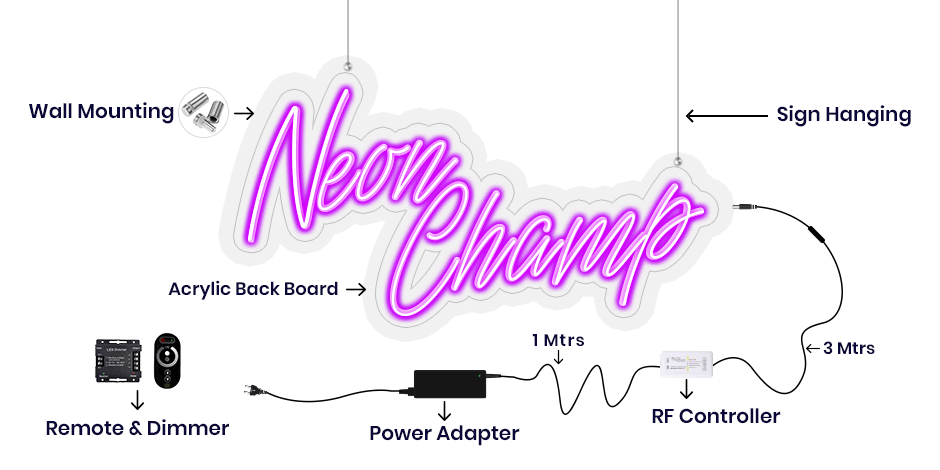 Glow Your Neon Sign in Style with NeonChamp
First begin by plugging in the power adapter
Insert the power adapter safely to ensure that the neon light get started as you want
Next, connect the power adapter output to RF Controller
Now that the power adapter is safely inserted it's time to connect the power adapter to RF controller
Now connect RF Controller output to the Neon Connector
Next, connect the RF controller to the neon connector which is a very simple process and won't take much time
Adjust Brightness with remote controller and done.
Set the brightness using a remote controller according to your décor or mood and get it started.
Why NeonChamp
Energy & Cost Efficient

Free Delivery

3 Years Warranty

Save & Secure Checkout
"Shine Bright at 21 - Shop the 'Twenty-One Neon Light Sign' Today!"
Capture the essence of turning twenty-one with this dynamic neon sign.