Product Description
Product Details
Shipping & Delivery
What You Get
Product Installation Guide
Introducing our "We're All Mad Here" Indoor Neon Sign, the perfect addition to elevate your home décor with a touch of whimsy and vibrant lighting. This mesmerizing neon light sign is designed specifically for bedrooms and homes, providing a unique and captivating ambiance.
Crafted with high-quality LED neon technology, our neon light signs ensure longevity and energy efficiency while delivering a stunning visual impact. The phrase "We're All Mad Here" is beautifully crafted in a stylish font, with a choice of captivating neon colors that will instantly draw attention and spark conversation.
Our neon sign is a versatile piece that can be easily mounted on walls or displayed on any flat surface, allowing you to personalize your space effortlessly. It serves as a statement piece, creating a focal point in your room or becoming a source of inspiration and creativity.
Whether you're a fan of Alice in Wonderland or simply appreciate the enigmatic allure of the phrase, our "We're All Mad Here" neon sign is a must-have for those who seek to add a touch of eccentricity and charm to their home. These neon signs for bedroom and home décor are an excellent choice for bedrooms, living rooms, home offices, or any space that craves an artistic and modern twist.
Best Places to Install We're All Mad Here Sign
Bring a dash of wonder and playfulness into your home with our "We're All Mad Here" Indoor Neon Sign. Let your imagination run wild and embrace the whimsical charm it adds to your living space. Check out unique places to hang We're All Mad Here Sign
Living Room:
Make a bold statement by placing the sign in your living room, where it can become a focal point of the space. Hang it above a couch, fireplace, or on a prominent wall to spark conversations and add a touch of whimsy to your gathering area.
Bedroom:
Create a magical and dreamy atmosphere in your bedroom by installing the sign above the bed or on a wall opposite to it. Our neon signs for home collection will serve as a charming night light and provide a cozy, enchanted ambiance for relaxation.
Home Office:
Infuse your workspace with creativity and inspiration by placing the sign on a wall behind your desk or in a visible area within your home office. It can remind you to embrace your unique perspective and think outside the box.
Entertainment Room:
Whether you have a dedicated home theater or a gaming area, the "We're All Mad Here" LED neon Signs can enhance the immersive experience. Install it near your TV or gaming setup to add a touch of playfulness and set the stage for an exciting adventure.
Entryway/Hallway:
Welcome your guests with a whimsical touch as they enter your home. Install the sign in the entryway or hallway to make a memorable first impression and set the tone for the rest of your home.
Study Nook:
The sign can create a charming and inviting atmosphere if you have a cozy study nook or reading corner. Place these Home Décor Neon sign on a nearby shelf or mount it on the wall to add a dash of eccentricity to your intellectual retreat.
You can elevate the style of your home or office with our stunning "We're All Mad Here" Neon Sign. At NeonChamp, we take pride in manufacturing every indoor neon sign with eco-friendly LEDs and dimmers, ensuring both a visually captivating display and energy efficiency. These LED neon signs are perfect for adding a touch of whimsy and charm to special occasions such as Father's Day decorations.
Varied Sizes:


Our "We're All Mad Here" neon sign is available in a range of sizes to accommodate different spaces and preferences. Whether you desire a small accent piece or a bold statement, you can choose the size that best suits your needs.

Vibrant Colors:


This neon sign features vibrant colors carefully chosen to create a captivating glow and enhance the overall aesthetic. The colors used in the sign are designed to be visually appealing and add a pop of brightness to any wall.

Varied Styles:


The "We're All Mad Here" sign comes in a variety of styles to complement different decor themes and personal preferences. Whether you prefer a modern and minimalist design or a vintage-inspired look, there is a style available to match your taste and interior style.
When you buy any Neon Sign from NeonChamp, you can expect your order to arrive promptly anywhere in the USA. Whether you choose the rush or standard shipping option, we do our best to get your Neon Signs to you as soon as possible!
To safeguard your delivery, we offer a non-confusing, clear refund policy. You can reach out to us for a full refund if the neon lights are faulty or damaged during transit.
Shipping Details
Unboxing Your Neon Sign Kit
We know you are excited to receive your We're All Mad Here Sign, which we pack with loads of love. But what's inside should not be a mystery to you, that is why we uncover all the details.
All the Neon signs that we send are well-equipped with clear acrylic boards having pre-drilled holes and SS mounting screws which makes hanging easy. Also, the neon signs are clubbed with a power cord which you can attach to the power adapter. Also, you get an option to adjust the brightness of your custom-made neon sign via a remote controller. .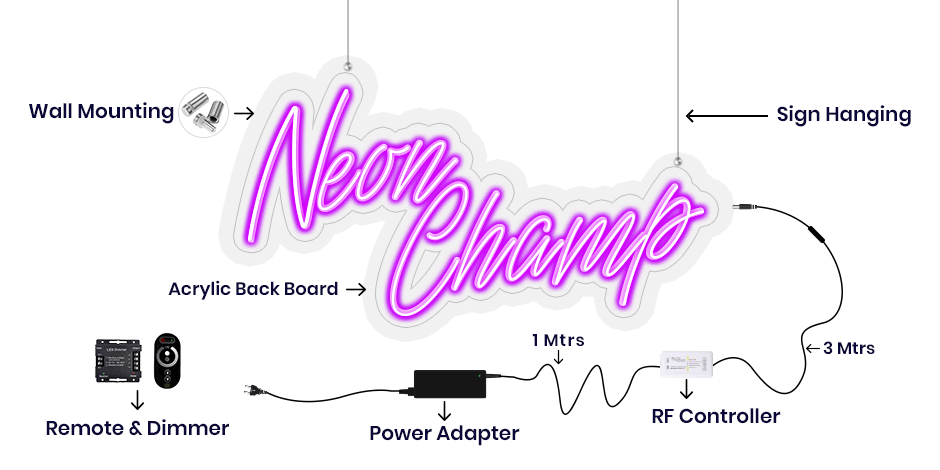 Glow Your Neon Sign in Style with NeonChamp
First begin by plugging in the power adapter
Insert the power adapter safely to ensure that the neon light get started as you want
Next, connect the power adapter output to RF Controller
Now that the power adapter is safely inserted it's time to connect the power adapter to RF controller
Now connect RF Controller output to the Neon Connector
Next, connect the RF controller to the neon connector which is a very simple process and won't take much time
Adjust Brightness with remote controller and done.
Set the brightness using a remote controller according to your décor or mood and get it started.
Why NeonChamp
Energy & Cost Efficient

Free Delivery

3 Years Warranty

Save & Secure Checkout
Get Your Customized "We're All Mad Here Sign" With NeonChamp
Embrace Wonderland with our 'We're All Mad Here' Neon Sign: Illuminate Your Space with Whimsy and Charm!