Why NeonChamp
Custom Designed

Energy & Cost Efficient

Durable

Easy Installation

Free Delivery

Free Returns

3 Years Warranty

Save & Secure Checkout
Are you looking to spruce up your space with a unique and eye-catching decorative piece? Our Neon Bunny Sign is a perfect addition to your Easter decor and celebrations! Designed to captivate and inspire, this charming Easter neon sign will not only brighten up your room but also elevate your home or office décor. Don't miss out on the chance to add a touch of whimsy and enchantment to your space.
Our neon company makes this beautiful Neon Bunny Sign which features a playful and adorable bunny design that perfectly embodies the essence of Easter, making it a must-have addition to your holiday decorations.
Top 3 Spots to Showcase and Install Your Stunning Neon Bunny Sign On Easter
Living Room or Family Room
The living room or family room is often the heart of the home, where family and friends gather to relax, converse, and enjoy each other's company. Installing the Neon Bunny neon sign board in this space will not only brighten the area but also serve as a conversation starter, adding a playful touch to your décor. Place the sign above a sofa, on a gallery wall, or near your entertainment center to create a warm and inviting atmosphere.
Bedroom or Nursery
A bedroom or nursery is another ideal location for the Neon Bunny Sign. The sign's adjustable brightness makes it perfect as a soft, soothing night light, creating a cozy and comfortable environment for relaxation or sleep. In a nursery, the playful bunny design will delight and enchant your little one, stimulating their imagination while providing a gentle glow. Hang the LED Neon Signs above the bed or crib or place it on a shelf or dresser to enhance the room's ambiance.
Home Office or Workspace
Working from home can sometimes feel monotonous, but adding a touch of whimsy to your workspace can boost your mood and productivity. Installing the Neon Bunny Sign in your home office or workspace will bring a pop of color and an element of fun to the area, helping to keep you inspired and motivated throughout Easter day. Position the decorative indoor signs above your desk, on a bookshelf, or near a window to create an engaging and stimulating environment for work.
Our Neon Bunny Sign is available in a variety of colors, so you can choose the one that best matches your interior design aesthetic.
The adjustable brightness feature of this flex LED neon signs allows you to set the perfect ambiance for any occasion, whether it's a cozy night in or a lively party with friends.
The bunny's playful design makes it an ideal gift for anyone who appreciates unique and charming home accessories.
When you buy any Neon Lights from NeonChamp, you can expect your order to arrive promptly anywhere in the USA. Whether you choose the rush or standard shipping option, we do our best to get your Neon Signs to you as soon as possible!
To safeguard your delivery, we offer a non-confusing clear refund policy. In addition, you can reach out to us for a full refund if the neon lights are faulty or damaged during transit.
Shipping Details
Unboxing Your Neon Sign Kit
We know you are excited to receive your Neon Bunny Sign, which we pack with loads of love. But what's inside should not be a mystery to you; that is why we uncover all the details.
All the Neon signs we send are well-equipped with clear acrylic boards with pre-drilled holes and SS mounting screws, making hanging easy. Also, the neon signs are clubbed with a power cord which you can attach to the power adapter. Also, you can adjust the brightness of your custom-made neon sign via a remote controller.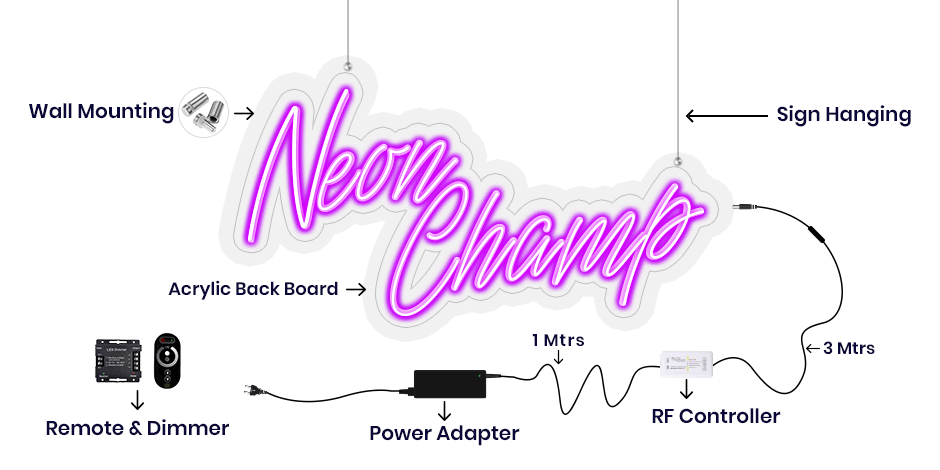 Glow Your Neon Sign in Style with NeonChamp
First begin by plugging in the power adapter
Insert the power adapter safely to ensure that the neon light get started as you want
Next, connect the power adapter output to RF Controller
Now that the power adapter is safely inserted it's time to connect the power adapter to RF controller
Now connect RF Controller output to the Neon Connector
Next, connect the RF controller to the neon connector which is a very simple process and won't take much time
Adjust Brightness with remote controller and done.
Set the brightness using a remote controller according to your décor or mood and get it started.
Get Your Customized "Neon Bunny Sign" With NeonChamp
Illuminate Your Space with Our Captivating Neon Bunny and Bring a Touch of Whimsy and Charm to Your Home or Office